At RSA Conference 2019, NEXCOM is showing a full range of network communication platforms and internet appliances designed for desktop and enterprise level applications. They integrate cutting-edge technologies, such as Intel multi-core CPUs, PCI express, I/O acceleration and AMD solutions.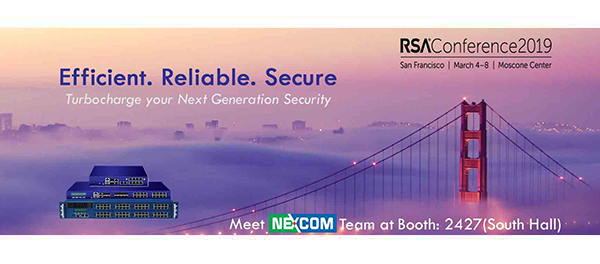 In addition, NEXCOM is demonstrating FPGA solutions, edge blockchain security, HCI and zero-trust application-specific networking applications with its cyber security eco-system partners:
SmartAxiom software manages and secures IoT & edge computing devices through patented, lite Blockchain Technology:
The peer-to-peer distributed ledgers improve security, latency, reliability and manageability
The first true endpoint-to-cloud blockchain solution, while the IoT Smart Contracts push intelligence to the edge
SmartAxiom technology interoperates with enterprise systems such as IBM Blockchain and Microsoft Azure
Proven on Intel x86 platforms and on many ARM-based microcontrollers such as those from Marvell, NXP and Broadcom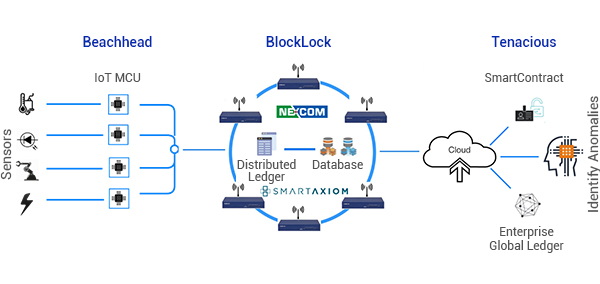 NodeWeaver delivers linear and predictable scale-out without large up-front investments by offering zero-management edge cloud fabric, integrating storage, networking and virtualization in a software-only full-featured Hyper-Converged Infrastructure (HCI) solution:
Optimized for the edge and built to deliver full data center capabilities on virtually any x86-based hardware
Easy to use interface and a management system that automates most tasks and simplifies activities that would otherwise require manual intervention by skilled personnel
Lightweight design allows it run efficiently on smaller edge gateway hardware and even SoC-based systems
Starts small and expand your infrastructure as you need, one node at a time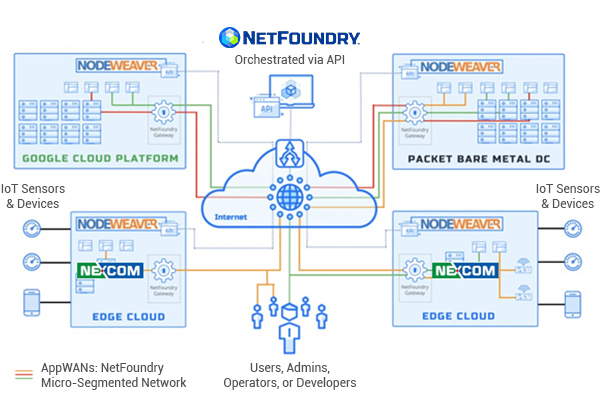 NetFoundry is the leader in Application Specific Networking, enabling businesses to instantly connect distributed applications in any cloud, on any device, anywhere with unprecedented simplicity. The NetFoundry platform enables businesses to securely and reliably connect applications without the constraints of VPNs, custom hardware and private circuits.
Software defined networking, purpose-built to meet the digital transformed application landscape
AppWANs supplement existing networks and are built using APIs to connect the apps
Purpose-built QoE and security to optimize internet segments, and, to interoperate with applications and ecosystem partners to be a part of the full-stack solution
Accolade Technology is a leading provider of FPGA Host CPU offload PCIe SmartNICs and platforms for the Cyber Security and Network Monitoring markets. Accolade leads the market in 100G FPGA based Host CPU Offload providing innovative features such as 100% Packet Capture, Flow Classification, Flow Filtering, Deduplication, advanced Packet Parsing, nano-second Time Stamping and much more. Accolade's mission critical products are integrated into NEXCOM x86 servers providing to the OEM/ODM partners/customers:
The market's most advanced FPGA based feature sets for Network/Cyber Security, Network Monitoring and Analytics applications
The most versatile and scalable product line ranging from 1-100G including the ATLAS-1000 platform which offers an integrated X86 CPU with an embedded Xilinx FPGA performing the most versatile Host CPU Offload functions
Customization of existing features and the development and integration of new FPGA Host CPU Offload feature sets at no cost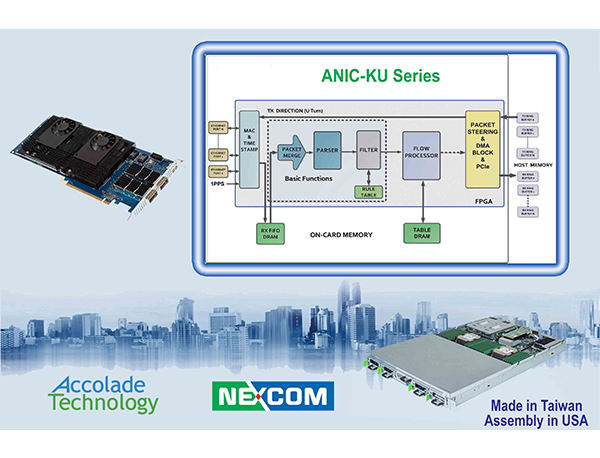 Come visit NEXCOM at Moscone Center, South Hall booth #2427. Register today and be sure to use the registration code below for your complimentary Expo Pass.

Event Details
Dates: March 5-8, 2019
Location: Moscone Center, San Francisco, CA
NEXCOM Booth #: 2427 (South Hall)
Free Expo Pass Code: XEU9NEXCOM