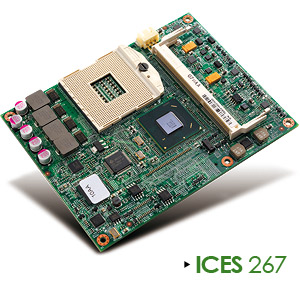 Following the recent launch of the 2nd generation Intel® Core™ processor family, NEXCOM is delightful to announce that its latest computer-on-module ICES 267, supports this powerful new technology. Designed to accommodate the Intel® Core™ Mobile processor, NEXCOM ICES 267 is capable of offering mighty computing performance, superior graphics display support and great expansion capability.
NEXCOM ICES 267 is a Type 2 (125 mm x 95 mm) COM Express Module that pairs an Intel® QM67 Platform Control Hub with 2nd Generation Intel® Core™ Processor Family and one DDR3 SO-DIMM memory socket up to 4GB. This technology enhances overall performance by up to 20% and offers a 30% increase in graphics performance compared to the previous generations, and thus guarantees excellent computing performance.
As demand increases for larger size screens for various uses, so the demand for streamlined video quality has increased. Combining audio and video functionalities of ICES 267 with Intel® HD Graphics, the capabilities of Full HD video quality, graphics intensive and multimedia applications easily satisfy the diverse challenges in this rapid changing market.
In line with market requirements, ICES 267 gives users a multitude of expansion options. ICES 267 COM Express Module featuring 2nd generation Intel® Core™ processor, provides the computing power whilst customized functionalities rely on application-specific carrier boards. Developers can always utilize ICES 267 with scalable I/O design on customized carrier board to develop unique applications and add value.
Alternatively, standard DVI/ HDMI/ SDVO interface is also available to provide great interface expansion. Moreover, instead of normal BGA on-board solution, ICES 267 equips with PGA socket type design which allows users to choose different processer to suit their needs.
The versatile ICES 267 from NEXCOM has the flexibility to be inserted into any customer-oriented carrier board and therefore provides great expansion possibilities. Outstanding computing performance as well as the graphic handling ability makes ICES 267 a superb solution for gaming machine, medical and military applications.
Main Features
CPU support list: lntel® Core™ i7 – 2620M, Intel® Core™ i5 – 2540M, Intel® Core™ i5 – 2520M
Support Intel® AMT 7.0
Type 2 COM Express Module Support 6 Express lanes, 32 bit PCI Interface, One IDE and Gigabit LAN
1 x DDR3 SO-DIMM Socket up to 4 GB