NEXCOM's PICMG 1.3 single board computer PEAK 888VL2 boosts performance and speed for industrial automation systems to give legacy systems a new life. Featuring the 6th generation Intel® Core™ processors, the PEAK 888VL2 is built with faster computing power, responsive graphics, and high-speed interfaces, delivering overall performance gains for industrial automation systems. Taking advantage of the PEAK 888VL2, industrial control systems can advance control capabilities and step up production for manufacturers.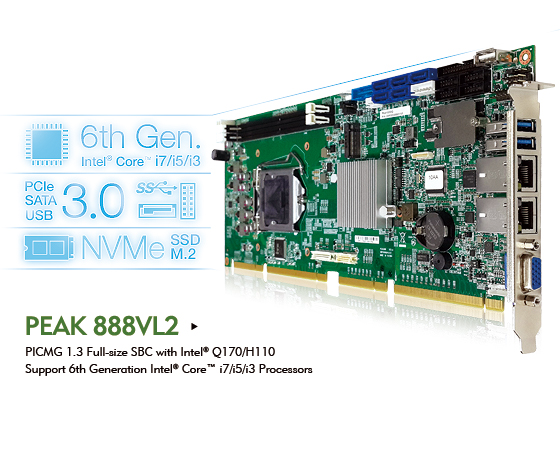 The PEAK 888VL2 is powered by the 6th generation Intel® Core™ i7/i5/i3 processors paired with Intel® Q170/H110 chipset and boats several advanced technologies. It has a faster processor and faster graphics compared with the previous generation series, and supports up to 32GB of DDR4 2133 memory through two DIMM slots. Incorporating the support for three displays and up to 4K2K resolution via DP and HDMI ports, the PICMG 1.3 single board computer can incorporate with multiple complex high-mix backplanes, enabling industrial automation systems to integrate high-speed multi-axis control, advanced motion control, and machine vision features for use in systems of smartphone OS download, vision inspection, measuring and testing, motion control, and production lines.
The high-speed I/O is another highlight of the PEAK 888VL2 which features the latest PCIe 3.0, SATA 3.0, and USB 3.0 interfaces. To enhance the application flexibility, the PCIe x16 on the PEAK 888VL2 can support backplanes through one PCIe x16, two PCIe x8, or four PCIe x4 connections. While packed with up to five SATA 3.0 ports, the PEAK 888VL2 can be configured with one M.2 SSD via high-speed PCIe SSD NVMe or SATA 3.0 interface, and offers the RAID 0/1/5/10 function to protect mission-critical data. Additionally, four ready-for-use USB 3.0 ports are built on the side of the PEAK 888VL2, while a USB 2.0 port is embedded onboard and intended for software security dongles.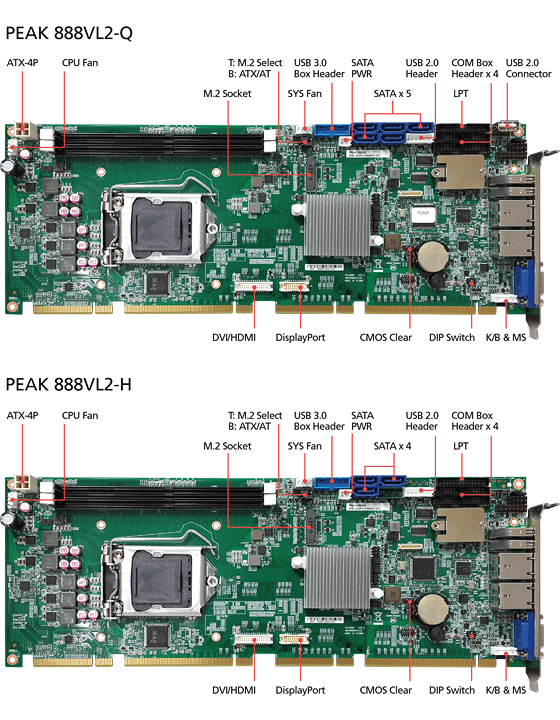 The PICMG 1.3 single board computer PEAK 888VL2 comes with two models—the PEAK 888VL2-Q with more I/O interfaces for high-end I/O-intensive applications and the PEAK 888VL2-H for mainstream industrial automation applications.
Main Features
Support PICMG 1.3 specifications
Support the 6th Gen. Intel® Core™ i7/i5/i3 processor
Support Intel® Q170/ H110 chipset
Dual DIMMs for up to 32GB of non-ECC DDR4 1866/2133MHz
Support PCIe 3.0, SATA 3.0 w/RAID 0/1/5/10, NVMe (M.2 form factor)
Support DP, HDMI/ DVI, and VGA outputs
Optional Intel® AMT 11 & TPM 1.2/ 2.0
Ordering Information
PEAK 888VL2-Q (P/N: 10P00088801X0)
PICMG 1.3 full-size SBC, 6th Gen Intel® Core™ i7/i5/i3 processor (Intel® LGA1151 socket), Intel® Q170 chipset, DDR4 DIMM, 1x VGA, 2xLAN, 4x USB 3.0, 5x SATA 3.0
PEAK 888VL2-H (P/N: 10P00088800X0)
PICMG 1.3 full-size SBC, 6th Gen Intel® Core™ i7/i5/i3 processor (Intel® LGA1151 socket), Intel® H170 chipset, DDR4 DIMM, 1x VGA, 2x LAN, 4x USB 3.0 x3, 4x SATA 3.0
NBP 14570-BX (P/N: 79N1457001X00)
PICMG 1.3 14-slot backplane for 4U chassis w/ 1x SHB slot, 7x PCI slots, 1x PCIe x16, 4x PCIe x1
NBP14670 (P/N: TBD) RoHS Compliant
PICMG 1.3 13-slot backplane for 4U chassis, 1 x SHB Slot, 1x PCIe x16, 4x PCIE x4, 7x PCI