NEXCOM's open EtherCAT robot package aims to grant robotics lab students and engineers freedom to develop and utilize their own control algorithm into best practice. The NexROBO Edu package helps build robot control with high command accuracy, fast throughput, collective feedback, and I/O expandability. Such open platform enables coverage of robot kinematics and help cope with integration projects including machine automation, factory automation, and robot controls.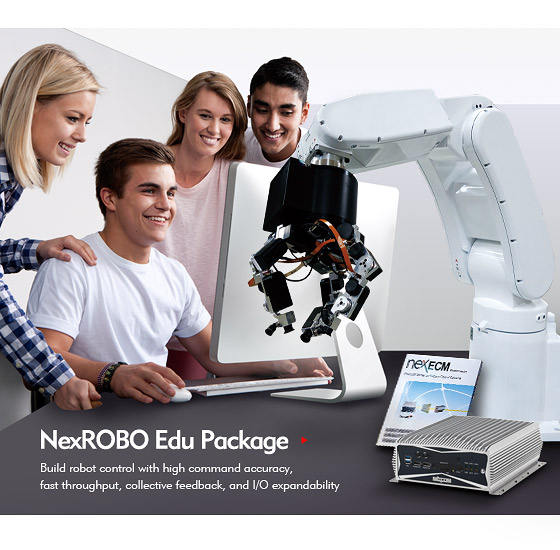 NexROBO Edu contains a 5kg-payload, 6-axis articulated robot body and an open EtherCAT controller powered by Intel® Core™ processor. To save time and efforts, all the hardware installation and circuit integration are complete. Supporting basic C/C++ APIs and point-to-point (PTP) function, the NexROBO Edu Package allows students and engineers to freely develop and execute their own command algorithms without proprietary hardware limitations.
Leveraging NEXCOM's NexECM EtherCAT master interface, the open EtherCAT controller sends and collects real-time parameter data such as position, velocity, and voltage in real-time extension (RTX) environment, which deliver accurate control over streamlined movements of the 6-axis robot, instant feedback from servo motors, and ultimately human-machine collaboration. Better yet, to optimize the robot life expectancy from greenhorns, the controller has joint limits pre-defined for each axis for peace of mind.
With EtherCAT's support for daisy-chain topologies, the package brings high flexibility to expand I/O and add-on devices. Various EtherCAT slave modules can be easily implemented for wider range of real-life automation applications, including conveyer tracking and controls of gripper and air compression. Engineers can freely develop their own robotic control and integrate robotic control into their automation projects, paving the way for Industry 4.0.
Ordering Information
Item

Robot Body

EtherCAT Controller

EtherCAT Drive

EtherCAT I/O

P/N

NexROBO
6R Edu Package

6-axis Articulated,
5kg payload

NET3600E-ECM

Panasonic
Minus A5B x 6

AXE-9200
(16DI/16DO)

7900000115X00

NexROBO
miniDelta
Edu Package

3-axis Delta,
0.5kg payload

NET101-ECM

Yaskawa
Sigma-5 x 3

AXE-9200
(16DI/16DO)

TBC

NexROBO
SCARA
Edu Package

4-axis SCARA,
6kg payload

NET3500-ECM

HIWIN
D2 x 4

AXE-9200
(16DI/16DO)

TBC