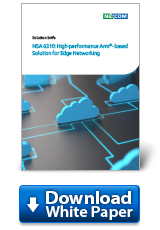 The Trend
5G is creating many grid applications to catch the next gen digital network. Fast, flexible and open platform white-box are hot buzzwords in infrastructure technology. With consumer expectations escalating, and new technologies and services becoming available, power- and cost-efficient high-performance Arm solutions are gaining in popularity.
The pace of change is also accelerating, forcing providers to jump-start innovation and get services to market faster to catch 5G applications, such as autonomous driving, Internet of Vehicles (IoV), Internet of things (IoT), smart cities, and healthcare. The operation vendor, system integrator, or developer faces the challenge to provide the right hardware and software.
To gain the business agility required in a dynamic environment, managed service providers and operators are embracing Network Function Virtualization (NFV) to make sure the white-box is upgradeable and flexible in the future.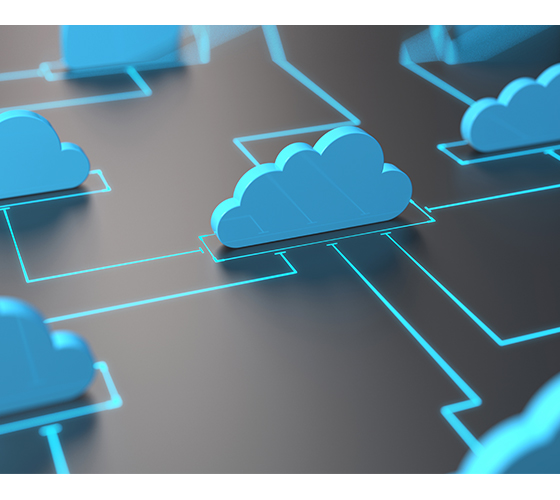 The Challenge
Traditionally, network services CPE, such as routing, security, SD-WAN, and WAN optimization or edge computing, have been delivered via dedicated, purpose-built physical network appliances. The challenge is that those devices are expensive, locked in with dedicated applications and inflexible.
To deploy and create a powerful and flexible service network with next-gen network services such as edge computing, security and low latency can quickly add up in costs. Telecom or service providers need a low-cost, energy-efficient and high-performance solution with generic off-the-shelf operating system for networking equipment.
NEXCOM Solution
As an active member in Arm's ecosystem playing its due role for Project Cassini, NEXCOM launched the cost-effective and energy-efficient Arm platform, NSA 6310, based on high-performance Arm® Cortex®-A72 processor. In software development ecosystem, NSA 6310 is in the process of certifying with SystemReady-ES compliant platform.
The Arm SystemReady program, as an extension of Arm ServerReady program, was born out of such context with one aim only: to push further to realize the vision that conventional software can "just work" on Arm®-based devices. This calls for a set of standards of hardware and firmware requirements to be unified and adopted across members of the IT ecosystem.
Compliance to this standard means that use of hardware is no longer locked to a specific vendor BSP, but instead opens the doors for any standards-compliant operating system to boot and have basic hardware functionality simply work. That means customers can focus on integrating their software onto the NEXCOM platform without the added step of acclimating to a board-specific software environment to fully meet their needs. This is particularly appealing to IT professionals when they are structuring a SD-WAN network, as interoperability of the OS and hypervisors have already been ensured if they deploy solutions certified by the SystemReady certification program.
Computing wise, NSA 6310 is powered by NXP's highest performance member of the Layerscape® LX2 series of communications processors, with optional 8/12/16 64-bit Arm® Cortex®-A72 cores. The cores offer large caches, with DPAA2 built-in accelerators, and High speed PCIe and Ethernet, to enable machine learning and NFV optimization at the network edge. In combination with integrated hardware acceleration for cryptographic processing, virtual forwarding, and traffic management, provide agile support for multi-gigabit routing and network services.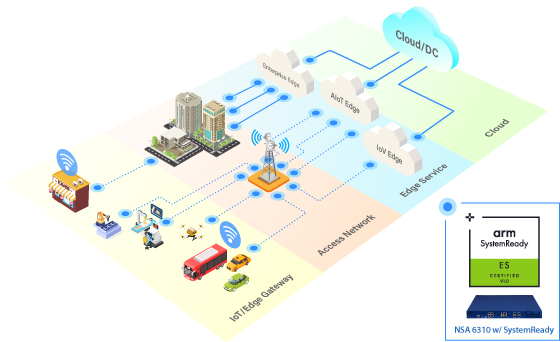 Figure 1. NSA 6310 with Arm SystemReady applications with node to edge flexible software.
NSA 6310 is designed with flexible network I/O, it offers two SerDes slots, with a choice of dedicated 10G and 1G LAN modules, for customers who need multiple I/Os to satisfy different applications for packet processing in the dynamics of 5G IT network. Scalability and flexibility provided by NSA 6310 make it a perfect edge platform to run under SD-WAN framework, an approach of network connectivity now adopted by large enterprises to lower down costs while maximizing resource usage for multiple operation sites. For instance, cloud application service provider (such as ERP/financial management software companies) can readily adopts this Arm®-based platform in their cloud infrastructure across different locations worldwide.
System security features like TPM 2.0 and Secure Boot create additional layer of the much-needed protection for cyber security in the cloud base environment. Meanwhile, NSA 6310's FPGA/GPU support extends computing applications to AI analytics, image inferencing, and any data path programmed to handle a specific workload needed via FPGA. Optional PoE+ is one more feature making NSA 6310 a comprehensive edge service node in the cloud-native IT landscape.
Conclusion
To stay in the leading position and maintain healthy revenue stream, service providers and technology professionals must be able to find a suitable appliance with a hardware and software standardized platform to start with, and keep innovating and optimizing the network infrastructure with leading network technologies.
NSA 6310 is a high-performance, flexible and energy-saving network appliance that help to achieve such needs. As a system designed with Arm®-based NXP LX2 Series network processor built in, integrated hardware acceleration enabled, it provides impeccable performance while its compact 1U rackmount chassis can easily fit into limited space. Offering an optional extended card for AI or ML offload, NSA 6310 creates many possibilities for various scenarios and use cases at the edge.
NSA 6310

1U Rackmount uCPE w/ NXP® Layerscape® LX2160A SoC Processor, 4 x 1GbE Copper Ports and 2 x LAN Module Slots

NXP® LX2160A multicore processor
4 x DDR4 (3200/2666) ECC-UDIMM
1 x M.2 2280
PCIe Gen3 x8 with SR-IOV
4 x 1GbE RJ45 ports
2 x LAN Modules
Supports KVM/QEMU
OS: NXP® LSDK (Ubuntu User land, LTS kernel v5.4.47)