From February 11 to 14 in Amsterdam, NEXCOM's resort villa booth at ISE 2020 will wow you with the versatility, uniqueness, and functionality of NEXCOM's computing solutions! Our resort concept features several interactive areas: bus stop, hotel check-in, gaming, smart farming, virtual golf, and dashboard. We'll be featuring our various digital signage players (NDiS series), thin panel PCs (XPPC), edge computing systems (Neu-X), and fanless computers (NISE) at Hall 8, Booth 8-E240. Stop by to see them in action!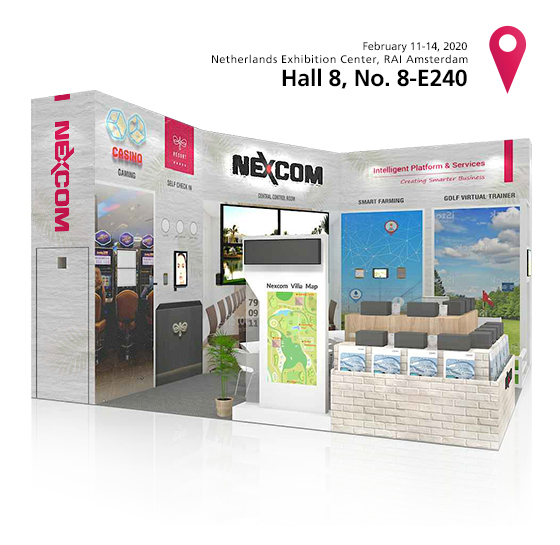 Bus Stop
Your leisurely journey begins with a stress-free shuttle bus ride! Our NDiS B325 and 336R players will allow you to view bus stop information and status updates.
Hotel Check-in
Once you've alighted from the bus, experience the ease and convenience of self check-in simply by using your phone and our XPPC-24 and Neu-X100 systems.
Gaming
The next stop on your vacation is the casino! Our XPPC-16 and Neu-X300 systems will thrill you with slot machine action. Enjoy yourself as vibrant graphics pop from the display screens.
Smart Farming
Our villa has a special farming zone that uses modern technology to boost production. See how our XPPC-10 and NISE 108 and 51 systems enhance management by monitoring temperatures, humidity, and air quality.
Golf
No resort visit is complete without a visit to the golf course. Our AI Edge 300 system will allow you to practice your golf swing so you can bring your best game!
Dashboard
Know that your security is always our resort staff's top priority. As you interact with the various zones, our staff will continue to monitor your safety with dashboards powered by the NDiS V1000.
See you soon at ISE 2020 at Hall 8, Booth 8-E240! For more information, visit our website.
Invitation Code: 707445

Event Details