To answer to the demands of the digital surveillance market, NEXCOM will bring together all breakthroughs at IFSEC 2014. The exhibition will take place from June 17th to 19th at the London ExCel exhibition center in London, UK. At IFSEC, NEXCOM will present a full range of solutions of digital security surveillance and latest technological advances such as RF detection and 360-degree fisheye lens IP cameras at booth B1375.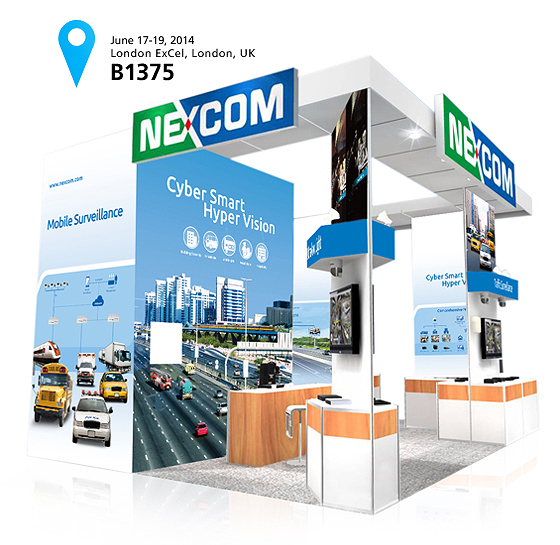 NEXCOM's megapixel IP cameras including NCr-301-RF, NCb-221 and fisheye lens IP cameras will be at the event showcasing features ideal for various different surveillance applications. For example, the 3-megapixel IP camera NCr-301-RF is able to detect radio waves and identify abnormal signals using RF detection technology, which is ideal for strengthening border security for military and cross-border nations. The box camera NCb-221 delivers enhanced performance in ultra-low light environments and equips digital-WDR function to provide true-color image captures under various lighting conditions, making it suitable for building and retail surveillance applications. For areas with blind spots such as retail hallways, office corridors, or large public open areas, NEXCOM's fisheye lens IP cameras can provide 360-degree surround view to ensure every corner is monitored.
Furthermore, NEXCOM will present a variety of complete packaged solutions that integrate NVR systems and megapixel IP cameras. One of these includes a new retail surveillance solution utilizing the megapixel IP camera NCb-211 with the slim security surveillance system NViS 1208. Equipped with a 1.1GHz dual-core Intel® Celeron® Processor 847E and supporting up to 16GB DDR3 1333/1600MHz memory, the slim and compact NViS 1208 can provide high quality digital recording and real-time display. In addition, with a wide variety of built-in I/O interfaces and eight Gigabit Ethernet PoE ports, the NViS 1208 can support a wide range of peripherals and megapixel IP cameras while maintaining a compact size.
Cordially invite you to visit NEXCOM at IFSEC to discover the breakthroughs that answer the needs of today and tomorrow's security.
Event Details
Date: June 17-19, 2014
Venue: London ExCel, London, UK
Booth: B1375