NEXCOM's transportation computer nROK series took the spotlight at InnoTrans. NEXCOM demonstrated a variety of transportation solutions covering from train surveillance and device monitoring, passenger information system (PIS), to eBus with great customer interest and response.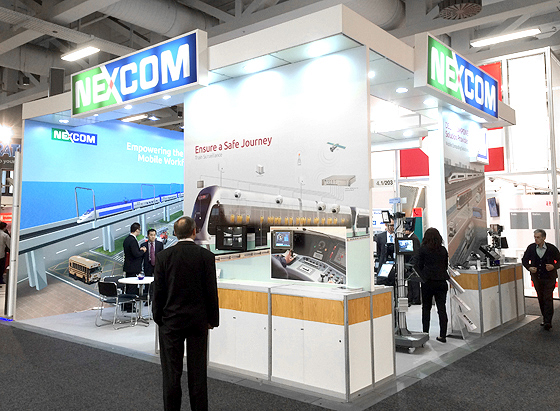 All train professionals gathered at InnoTrans looking for the latest technology to fulfill the demands of a safe and happy journey for passengers. At the event, NEXCOM's train surveillance solution received strong responses from field experts. NEXCOM's latest train PC nROK 5500 presented in surveillance application became one of the highly sought-after products. The EN50155-certified nROK 5500 features powerful Intel® Core™ processors, three 3G and Wi-Fi connections, eight PoE ports for IP surveillance cameras, large data storage, robust fanless rackmount enclosure, and extended operating temperature support. This combination of robust and high performance design was what attracted the visitors the most.
NEXCOM's nROK 3000 for passenger infotainment systems (PIS) also gathered widespread interest with its compact and robust design. NEXCOM EN50155 compliant fanless transportation computer nROK 3000 can enable control centers to disperse real-time information to train stations, delivering passenger infotainment services including news updates, weather conditions, and railway timetables to enhance the travelling experience.
To ensure all train devices function well, the compact nROK 3000 train PC allows drivers to acquire real-time status of electronic devices and oversee the moving train from the driver cab.