NEXCOM US, a manufacturer of industrial computer hardware and innovative supplier in vertical application markets, and InduSoft, an HMI (Human Machine Interface) software provider, are proud to announce a technology and business partnership to bring complete HMI solution packages for the factory automation market. The task of configuring HMI software in an industrial computer will no longer be the burden of the end users'.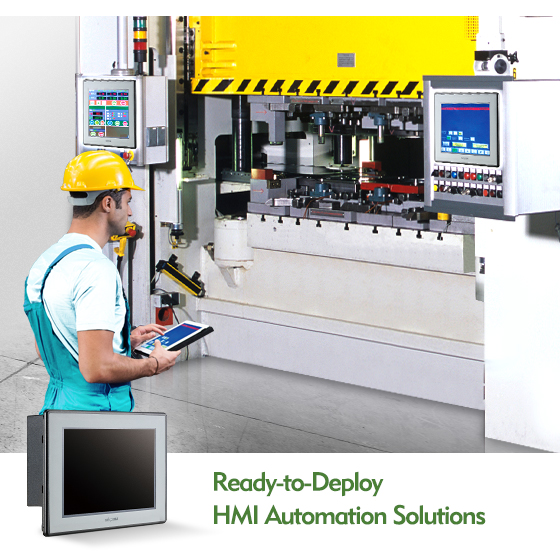 Running the latest Intel® Atom™ processor E3800 product family, NEXCOM offers cost-effective factory automation computers in both fanless touch screen Panel PC and fanless box platforms. These computers have been tested and certified to run InduSoft WebStudio HMI/SCADA software, including EmbeddedView, CEView and IoTView. VxWorks certification is pending and expected to be completed in November. Pushing to drive the Industry 4.0 revolution with intelligent factories, the industrial computers are also capable of fieldbus communications, including PROFIBUS, PROFINET, DeviceNET, EtherCAT, and EtherNet/IP. Further, NEXCOM Panel PCs and fanless box PCs support network connectivity such as GbE LAN, Wi-Fi, and 3.5G/4G LTE. Designed for industrial use, the PCs can withstand harsh conditions with extended operating temperature of -4° to 167° Fahrenheit. Lastly, the touch screen Panel PCs are IP65 compliant with flush panel display.
InduSoft Web Studio is a truly unique development and runtime HMI/SCADA software that incorporates all the tools users need to create SCADA, HMI, dashboards and OEE interfaces. With easy configuration for web publishing and hundreds of drivers for every major equipment manufacturer, InduSoft offers the most flexible industrial automation software solution available.
"This new partnership will leverage the strengths of NEXCOM and InduSoft to enlarge and improve the quality of automation offerings to the market, streamline the configuration process, and simplify deployment for end users in the North and South America regions," said Khang Pham, Marketing Manager, NEXCOM US.
"It's always our goal to make deployment and configuration simpler and easier with InduSoft Web Studio. This partnership with NEXCOM allows us to offer a robust HMI solution backed by the power of reliable and flexible hardware that allows customers to fully leverage the capabilities of their application," said Melinda Corley, Marketing Manager of InduSoft, a part of Schneider Electric Software.