NEXCOM has released the 2U network security appliance NSA 7130 to take on more security workloads and lower energy consumption to contribute to a greener world. Based on Intel® Xeon® E5-2600 v3 product family (codenamed Grantley), NEXCOM NSA 7130 features enhancements in computing performance, system responsiveness, I/O throughput and hardware design to safeguard network traffic for both enterprise and telecommunication applications.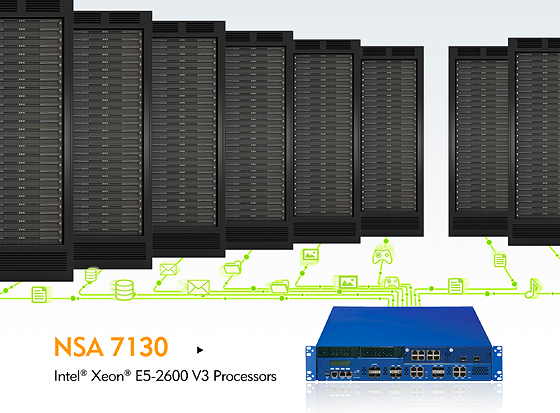 "Facing the increasing complexity and surging volume of network traffic created by Big Data and Internet of Things (IoT) applications, NEXCOM has built the NSA 7130 with Intel® Xeon® E5-2600 v3 product family and Intel® Ethernet Controller XL710-AM2 to pave the way for next-generation networking, said Hadwin Liu, Chief Architect of NEXCOM Network and Communication Solutions Business Unit. "The NSA 7130 satisfies the need for dynamic computing and high bandwidth required of massive parallel processing and features high LAN density and modular design. The NSA 7130 is easy to scale, easy to manage, and eco-friendly, helping reduce operating expenditure for enterprises and telecom carriers."
"The Intel® Xeon® E5-2600 v3 product family delivers increased performance, energy efficiency, security, manageability, and serviceability," said Bill Rollender, director of marketing for Intel's Communications Infrastructure Division. "The Intel® Xeon® E5-2600 v3 product family will enable rapid delivery of services for high performance computing, cloud and enterprise segments and offer new opportunities for telecommunication vendors."
The NSA 7130 is a dual-socket network security appliance with support for the full range of Intel® Xeon® E5-2600 v3 product family and up to 512GB of DDR4 memory. The NSA 7130 is equipped with high speed network interfaces including four 10GbE ports, eight 1GbE copper ports, and eight 1GbE fiber ports. With two third generation PCIe x8 slots and room for flexible configuration, the NSA 7130 can build on extra performance, storage, and LAN density with NEXCOM SmartNIC, LAN, and HDD modules and facilitate scaling in, scaling up, and scaling out of applications.
The power efficient design is another highlight of the NSA 7130. To reduce energy waste, the NSA 7130 uses a common redundant power supply (CRPS) module with 80 PLUS Gold certification. With a short depth of 450mm, the NSA 7130— approximately 20 percent smaller than most popular 19-inch rackmount network appliances on the market—can dissipate heat more easily and is suited for use in telecommunication environments.
Main Features
Support full range of Intel® Xeon® E5-2600 v3 product family with up to 12 cores
Support up to 512GB of DDR4 2133 memory with 16 DIMM slots
Onboard 4x 10GbE LAN ports, 8x 1 GbE copper ports, 8x 1GbE fiber ports
2x PCIe 3.0 x8 expansion slots
2U 450mm deep rackmount form factor
Swappable 80 PLUS Gold certified Intel® CRPS module for AC/DC power inputs
Ordering Information
NSA 7130 (P/N: 10S00713000X0)
Support Intel® Xeon® E5-2600 v3 product family, 16x DDR4 memory slots, onboard 16x 1G LAN and 4x 10G LAN ports, two LAN modules slots, CFast socket, VGA, USB port, With LCM