NEXCOM, a reliable partner for the intelligent solutions, is now providing NEIO-B1841 as its new version of EtherCAT slave I/O devices to include analog I/O module in addition to digital I/O module for our users to much easier build up their control system.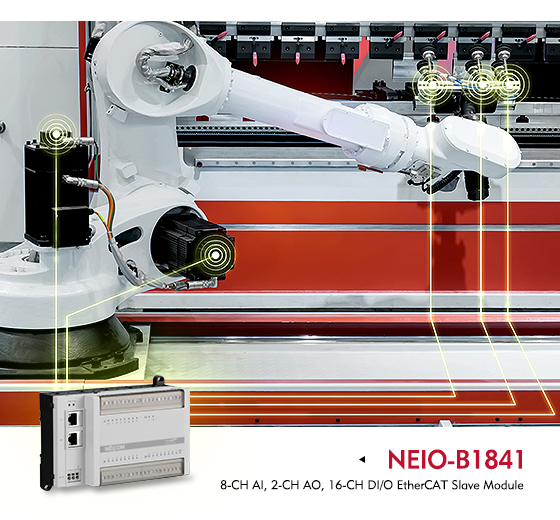 Optimization of Automation
As Internet of Things is accelerating into its comprehensive commercialization phase, a more-function-included I/O module actually can optimize automation processes that rewards EtherCAT users simplified device set, efficient production flow and for sure further cost efficiency. NEIO-B1841 can easily handle a collaborative functionality with peripheral devices that install of sensors to function as analog data collection such as distances, flows or forces, on top of collaborations via digital I/O modules.
Best-in-class with most comprehensive specifications
NEIO-B1841 rewards EtherCAT users an on-shelf product providing flexibility for them to instantly tailor their own specifications into their control systems. Multifunction DAQ (8-CH AI, 2-CH AO, 16-CH DI/O) is inclusive for individual choices. Its analog input and output module can be switched between current and voltage modes while the ranges are also adjustable under both modes. The resolution reaching 16 bit and sample rate reaching 1K Hz is all listed into top quality level.
Superior User Experience
NEXCOM, as a leading professional IoT automation solution provider and one of ETG members with all its products certified by CTT (EtherCAT Conformance Test) as necessary, further features NEIO-B1841 of superior user experience, including:
User-friendly wiring labels to save your time in searching on manuals
QR code for ESI files to provide instant access to ESI download link
Rational pin-assignment marks to prevent blind spot for information checking
Finger-safe wiring covers to provide wire protection and human safety
On-module LED indicators to show clear status and help for quickly diagnosing
NEIO series provides EtherCAT slave I/O module series products for distributed industrial applications, with each to be equipped with high density I/O (up to 32 points) and powerful features in a compact size, to satisfy the users an easy installation and cost advantages, especially for machine control and robotic control applications. Such applications can be any of control systems, including robot control system, factory automation, machine automation and power control panel.
NEXCOM is providing total EtherCAT motion solutions, ranging from new system design till customized build, with comprehensive products from its own factories including EtherCAT master controllers, EtherCAT I/O , EtherCAT motion controllers, EtherCAT slave modules and even EtherCAT slave chips, as well as robot arms applicable to various industries and configuration tool controlling motions. CNC, general machines, collaborative robots and industrial robots are all possible applications.
Product Information and Specification Details, please Click Here.
Main Features
Finger-safe wiring covers
Rotational pin-assignment marks
User-friendly wiring label
8-ch AI, 2-ch-AO, 8-ch DI, 8-ch DO
Adjustable analog Input and output range
16-bit AI/AO resolution
Watchdog function
Ordering Information
NEIO-B1841 (P/N: 10J80184100X0)
8-CH AI, 2-CH AO, 16-CH DI/O EtherCAT slave module