NEXCOM (TAIEX: 8234) has announced the in-vehicle computer VTC 1911-IPK with high resistances against harsh environments, including IP67 precision design water- and dust-proof, as well as U.S. military standard shockproof.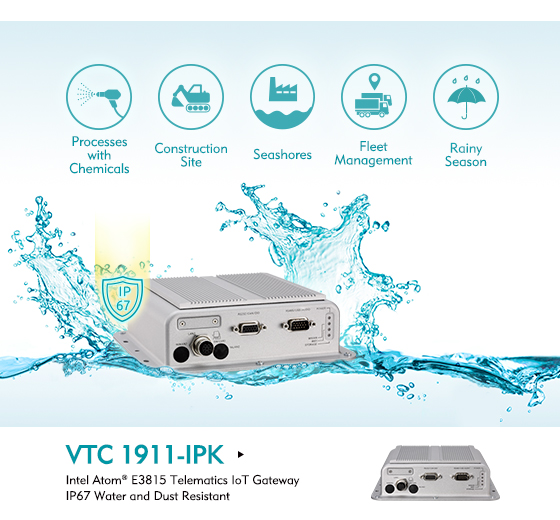 In serving our clients with a smooth entering into IoT ecosystem beyond environmental restrictions, such as bad weather or extreme working conditions, the box PC VTC 1911-IPK is featured of a waterproof rating IP67 to a depth of 1.0 meter for 30 mins, with more storage spaces by inner SSD tray. For telecommunication, its 3G/4G eCall built-in circuit can provide not only network connectivity, but also the possibility of phone calls, while 2 SIM slots are also considered for an easy switch at crossing border. CAN 2.0B for maintenance and diagnostics is also included, which allows for remote and real-time management for vehicles, if functioning with the built-in advanced GPS receiver supports and mobile connectivity. For example: driver's management makes you managing the long transportation/supply line much easier with much lower costs. More customized functionality is possible from its optional specifications, such as an HDMI port as the second display port (by request) for dual display in both clone and extension modes.
VTC 1911-IPK can be equipped into new devices, but also adapted into legacy.
Customization is welcome by a contact with us.
Based on VTC 1911-IPK, here below are our recommendations for our users to extend the applications with further system integration:
Application case I_ Construction Site Management
Construction sites typically are full of dust and water splash, where raw material and waste transportation access are also frequent. With IP67, all related equipment and vehicles can be easily connected into IoT featured data acquisition for remote and real-time management. Such as instant delivery weighting and counting through truck access. Also, on-site workers wrongly accessing or moving can cause warning messages in a second for safety concerns. More functionality can be customized.
Application case II_ Heavy-duty Vehicle Fleet Management
Fatigue management includes automatic warning if a driver's eyes at driving are locking in the wrong direction for too long. The entire fleet can be at the same speed range against collision. Also, with VTC 1911-IPK, emergency circumstances can be instantly reported to the nearest police station and/or logistics command center, such as car accidents causing driver lost consciousness. Its capability of connectivity to Infrastructure enables features such as real-time road status updates with possible substitutions. More is possible.
Please Click Here for more product information and detailed specifications
We welcome your enquiry: leochang@nexcom.com.tw
Main Features
IP67 water resistant
Big storage with SSD
Vehicle interface support
A wide range of I/O ports
Wide operating temperature -40°C~70°C
More Applications Recommended
All traffic purposes
Waste collection
Construction site
Dam management
Agriculture or mining site
Heavy industry park equipment
Extreme weather, such as seashores or deserts at nearby
Factories with extreme conditions, such as food or chemicals
More Functionality Recommended
Ticket reading
Passenger LED system
People counting
Water level management
RFID reader
Ordering Information
VTC 1911-IPK (P/N: 10V00191100X0)
Intel Atom® processor Bay Trail E3815, 1.46GHz with 2GB DDR3L SO-DIMM, U-blox M8N GPS on board, VGA output, 2x LAN, 2x RS-232 (Tx/Rx), 1x RS-485 (Tx/Rx), 1x CAN 2.0B, 3x DI, 3x DO, 1x USB 2.0, 1x Line-out/Mic-in