NEXCOM's Industry 4.0-based solutions integrating field data through IoT gateways to a cloud service has gained wide popularity among worldwide visitors at 2016 Hannover Messe.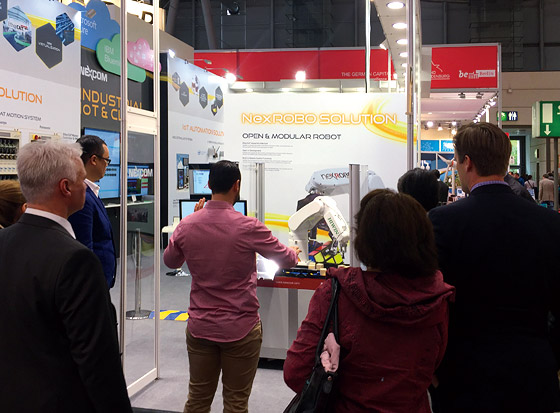 NEXCOM's four main highlights at the show included CPS-ready solutions, robots, EtherCAT-based motion control, and industrial networking. Although different in context, all four themes used NEXCOM IoT Studio and IoT gateways to integrate field data to a cloud service powered by Microsoft Azure. The demonstrations showed how integrating cloud-enabled services such as business intelligence, big data analytics, machine learning, and remote management can allow for exception management and advanced process control.
At 2016 Hannover Messe, we observed a few key demands as below:
IoT gateway solutions hit the demands of current industrial trends
Thanks to the booming IIoT trend, NEXCOM IoT gateways, CPS 200 and NISE 50, were under the spotlight. The CPS 200 showed how a unified user interface can significantly streamline the configuration of various fieldbus protocols and cloud connection , while the NISE 50 demonstrated competence in serving as both an edge controller and data concentrator by integrating control, communication, and connect capabilities.
Extensive IoT controller solutions are essential to meet diverse production line needs
With Intel® Core™-based NIFE 300, Celeron®-based NIFE 200, and Atom™-based NIFE 100, NEXCOM's PC-based controllers offer scalable computing performance for different scale cyber-physical systems for Industry 4.0. At the show, the NIFE 300 has attracted immense interests with its interoperable open architecture to control, communicate, and connect industrial systems, helping factories regain speed, efficiency, and agility in manufacturing.
Man-machine collaboration is key to securing productivity and workplace safety
NEXCOM's NexROBO solution showed how workplace safety can be increased by replacing workers with robots in dangerous environments. On display was an articulated robot equipped with machine vision to imitate the arm movements of visitors. The demo has attracted hundreds of visitors to experience the new technology.
Coding-free deployment spurs IoT innovations
IoT is transforming business across industries with innovative applications. To spur more innovations, NEXCOM IoT Studio, a web-based configuration tool, demonstrated how developers can swiftly implement customized features by taking advantage of pre-integrated functions with simple clicks, drags, and drops. Accelerating the development of IoT applications with reduced efforts enables immediate testing of innovative ideas, turning proof-of-concept inventions into wide-scale deployment; no wonder NEXCOM IoT Studio shone at the show.
For more information, please contact NEXCOM's sales representatives.