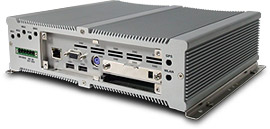 Every mobile operator aims at providing customers the best call quality. A professional enterprise has endeavored to provide mobile operators with integrated solutions to benchmark and optimize the performance and quality of wireless networks, services, and content to maximize customers' satisfaction. For this project the company deployed NEXCOM's VTC in-vehicle computer in service fleets to perform analysis, optimization, benchmarking, troubleshooting, diagnostics, and health check on mobile communication network dynamically all over the locations where the service covering.
Conventional in-vehicle computers are not equipped with power on/off control mechanism over the air. This means service fleet drivers have to wait for an in-vehicle computer to be activated after a vehicle is switched on, a delay which is both time consuming and expensive. To resolve this issue, NEXCOM's VTC in-vehicle computer is equipped with over the air remote power on/off control mechanism which is able to automatically activate the system before a vehicle is switched on thus reducing driver inactivity and increasing efficiency.
The other key feature of NEXCOM's VTC in-vehicle computer was its performance to provide real-time data updates. With an integrated wireless network modem, the customer can conveniently log data and instantly analyze the quality of service. There's no need to wait anymore for data updates – vehicles can be used right away on schedule.
The customer was also impressed with the support of multiple wireless network modems, which differentiates NEXCOM's VTC in-vehicle computer from others. NEXCOM's multiple wireless network modems allow the customer to monitor multiple networks in different RF bands. By inserting multiple mobile SIM cards, the customer was capable of effectively monitoring network performance of different mobile carriers. The customer is very happy that NEXCOM's VTC in-vehicle computer has greatly enhanced the way it monitoring and optimizing mobile networks performance for mobile operators.