To keep up with the latest innovations of intelligent security surveillance, be sure to visit NEXCOM's booth C350 at IFSEC 2015. The exhibition will take place from June 16th to 18th at the ExCel London exhibition center in London, UK. At IFSEC, NEXCOM will present a full range of digital security surveillance solutions and latest technological advances such as the next generation video compression standard H.265, ultra-low light and license plate recognition cameras.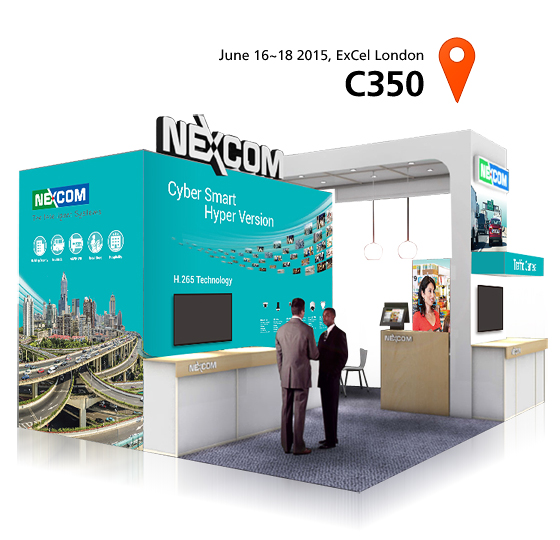 At IFSEC, NEXCOM will showcase its latest HEVC/H.265 camera and large capacity NVR, NVR 1160, for security surveillance requiring smooth recording and massive storage of high bandwidth video at an economical price. NEXCOM's H.265 camera enables fluent transmission of 4K or HD surveillance videos over low network bandwidth with no image pauses as the new compression technology can compress the file smaller than previous technology. Furthermore, the H.265 camera also brings improvements in noise levels and visual quality as well as enhanced dynamic range. Moreover, NEXCOM's H.265-based NVR 1160 implements HEVC to provide users with more available storage space for video footages through compression techniques that save up to 50% of file size, while maximizing video quality at low bit rates to optimize bandwidth usage. By using NEXCOM's total H.265 solutions, detailed video footage and extended recording time at a lower total cost of ownership are made possible.
For license plate recognition in car-parking applications, NEXCOM will present the Syskam NCk-251 and NCr-304-VHR megapixel IP cameras. NCk-251 is an all-in-one security camera system capable of automatic reading and identification of vehicle license plates through its onboard analysis capabilities. It features an installation-friendly design to ease deployment in parking lots, and analytics to help locate vehicles of interest by analyzing license plates and drivers against designated database. NEXCOM's NCr-304-VHR, on the other hand, is designed for reflective license plate recognition for high-speed moving vehicles. With true WDR and smart IR, it can overcome various lighting conditions and provide clear license plate capture under low-light conditions. NCr-304-VHR is suitable for traffic enforcement and control, vehicle theft identification, vehicle tracking and parking.
Furthermore, NEXCOM will showcase NCb-221, a 2 megapixel IP camera designed for capturing detailed images in ultra-low light conditions. The box camera NCb-221 delivers enhanced performance in ultra-low light environments and equips digital-WDR function to provide true-color image captures under various lighting conditions, making it suitable for building and retail surveillance applications.
Cordially invite you to visit NEXCOM at IFSEC to discover NEXCOM's latest security surveillance technologies and solutions in vertical markets.
Cordially invite you to visit NEXCOM at ISE to discover successful digital signage applications in vertical markets.
Event Details
Date: June 16-18, 2015
Venue: ExCel London, London, UK
C350