At InnoTrans, the world's biggest train transportation exhibition, NEXCOM won high appraisal for its advanced transportation computer technology from worldwide visitors. The live demonstration for passenger information system and train surveillance was met with great response from professionals and visitors, answering the industry's demands for vehicle computing.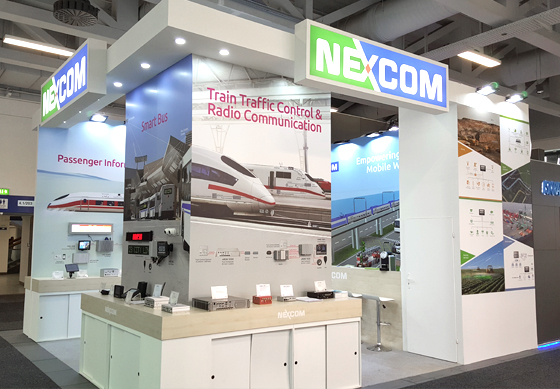 At the show, NEXCOM's Passenger Information System application garnered widespread interest from visitors. The system, which included LCD panels, NEXCOM train computers VTC 7220-R and VTC 6220-R, and vehicle mount display VMD 2002, together presented a scenario demonstrating how it provides real-time passenger information and enhanced passenger infotainment services. NEXCOM VTC 6220-R was used as a media server for mobile Wi-Fi AP application to show how it can connect with passengers' wireless devices to improve infotainment services. NEXCOM VTC 7220-R, on the other hand, was used to show how it features the powerful new generation Intel® Core™ i7-4650U processor to give users the ability to adapt to what they need in any rolling stock applications.
NEXCOM train surveillance application for the inside and outside of trains as well as facial recognition application also received great response at the show. For in-train surveillance, the Modular Vehicle Computer System MVS 5210 live streamed and recorded 4 video channels simultaneously without any latency. It also further demonstrated its multitasking capability by running video analytics software like facial recognition continuously in the background while recording real-time video streams. For external train surveillance, the vehicle mount computer VMC 3011-RAV, PoE switch VES30-8S and connected cameras showcased how they can provide train-pedestrian and train-vehicle collision prevention.
For more information about NEXCOM's Transportation Computer Technologies, please contact NEXCOM's sales representatives.