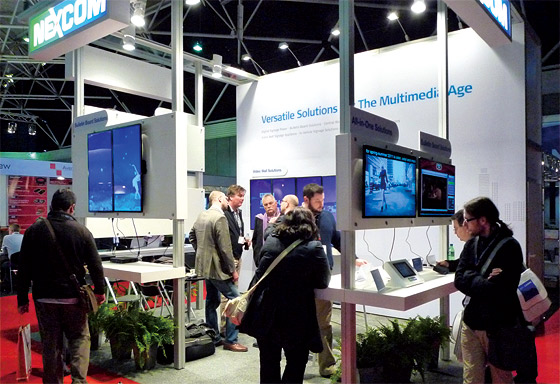 At Integrated Systems Europe (ISE) 2012, NEXCOM achieved its most successful Digital Signage Exhibition to date. The stars of the show for NEXCOM were the cost effective NDiS 126 and NDiS 127 digital signage players; the high-performance NDiS 166; and the NDiS 542 video wall player.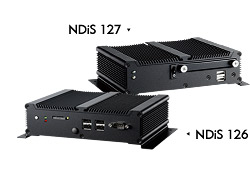 The new NDiS 126 and NDiS 127 digital signage players' both caught the imagination at ISE. Both platforms are able to support full HD video on dual independent displays and offer cutting edge technology at an incredibly competitive price. NDiS 126, based on Intel® Atom™ processor D2700 and Intel® Graphics Media Accelerator 3650, is aimed at budget sensitive users and is a top notch solution for advertising, brand promotion and digital menu board applications. Whilst NDiS 127 is a powerful Digital Signage Solution which is based on AMD's new Embedded G-Series T56N APU, furthermore its removable HDD design ensures expansion can be upgraded.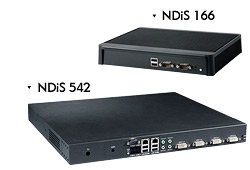 Positioned as high-performance digital signage player, NDiS 166 built around the superb technology of Intel® Core™ i5/i7 processor family with Intel® new HD graphics engine and QM67 chipset. It offers impressive system performance and can easily support dual full-HD video. The NDiS 542 video wall player is powered by Intel® Core™ 2 Duo/ Core™ 2 Quad series processors and S3 4300E GPU, is specifically designed for any 2x2 or 1x4 video wall applications and can distribute high impact contents on multiple displays. This feature particularly caught the visitors' attentions at ISE show.
In addition to our ultra-reliable range of hardware platforms, NEXCOM also showcased a selection of total Digital Signage Solutions, which enable users to upgrade their system with user-friendly digital signage software PowerDigiS V2.