The exceptional performance of the NDiS 166 digital signage player has been recognized once again by a software expert, Klocktornet, who has certified the product for use with DISE software. DISE digital signage application software was initially introduced in 2005 and is recognized by several well-known brands, including HP and NEC. With addition of DISE software, NDiS 166 ensures reliable playback of high quality, dynamic, video content.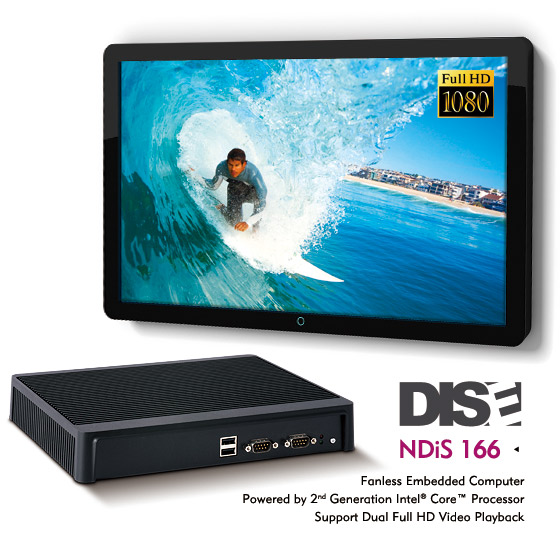 The software, DISE Replay, aims to bring TV studio quality to digital signage applications. To truly appreciate the uniqueness of this software, it requires a high-performance and reliable digital signage player, NDiS 166.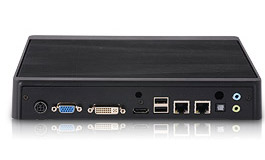 In terms of hardware performances, NDiS 166 is built around the superb technology of Intel® Core™ i3/i5/i7 processor family with Intel® new HD graphics engine and Intel® QM67 chipset and supports up to 8GB DDR3 memory. It is equipped with superior graphics handling capabilities and capable of dual full HD video playback.
Besides high performances, NDiS 166 has a rich combination of video output interfaces for dual displays and supports Intel® AMT for remote management. This digital signage player achieves an impressive level of system performance and can fully present the capability of DISE Relay software and exceed customer's expectations.
Main Feature
High performance with Intel® Core i3/i5/i7 professors and QM67 chipset
Impressive graphic capability with Intel® integrated graphics engine
Compact and slim design for space-saving
Fanless design to extend the product lifecycle
Support dual independent display with Full-HD videos
Dual gigabit LAN and WLAN/TV tuner support
About Klocktornet
Klocktornet founders and developers have a long experience in digital signage working with the same concepts since 1989 when they helped to pioneer the business. Dise 1.0 was released in 2005 and marked a new way of working with digital signage and providing a output quality that were previously only found in dedicated broadcast systems. To 2010 year, a wide range of DISE series applications have been developed to meet different demands in digital signage business. For more information, please visit http://www.displayevolution.com/