NEXCOM has upgraded the applied panel PC (APPC) series with Intel® Atom™ processor E3800 product family to realize the smart factory envisioned by the Industry 4.0. NEXCOM APPC series features powerful graphics capability, larger system memory, support for fieldbus networking, and robust fanless design. The APPC series can provide system control, process visualization, fieldbus connectivity, and wireless networking required for smart factory operation.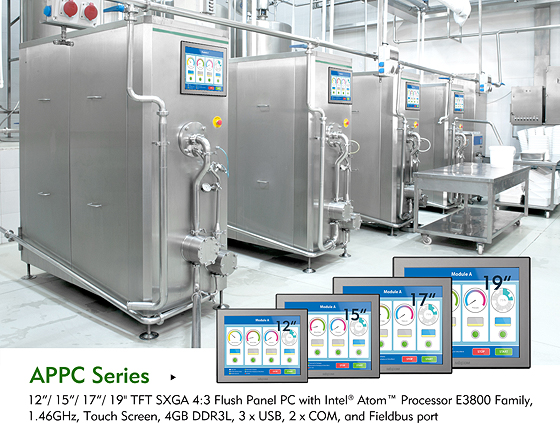 To allow centralized monitoring and management of smart factory operations, NEXCOM Applied Panel PC series is powered by Intel® Atom™ processor E3800 product family and integrated with Intel® HD Graphics. Built with 4GB of DDR3L, the APPC series has a system memory twice as large as most competing products and is expandable to 8GB. Also, the APPC series supports fieldbus networking with PROFINET, PROFIBUS, DeviceNet, EtherNet/IP and EtherCAT expansion modules and can run CODESYS SoftLogic, JMobile HMI, and Citect SCADA software.
Moreover, the APPC series is enhanced to ensure system reliability. The APPC series has 2.5KV isolation protection on the COM ports to protect the APPCs and the connected peripheral from voltage spikes. The fanless design and the IP65-rated front panel can prevent ingress of water and dust. For use in different factory settings, the APPC series supports 12~30VDC power input and is prepared for EN61000-6-1 and EN61000-6-3 industrial EMC testing. Factories can also benefit from the APPCs' low power consumption and support for remote power control; these features help not only increase system reliability but also save energy.
NEXCOM Applied Panel PC series uses 12", 15", 17, and 19" NEXCOM APPD industrial touch monitors which share the same outlook design and cutout dimension with the APPC series and support up to SXGA resolution (1280 x 1024).
Main Features
Intel® Atom™ processor E3800 product family (Up to quad cores)
4GB of DDR3L by default with support for up to 8GB
4:3 LED backlight panel with 50,000-hour lifespan
Support fieldbus module, CODESYS SoftLogic, JMobile HMI, and Citect SCADA (optional)
Flush panel by 5-wire touch screen with customized mainbrane
2.5 KV isolation protection on 2 x RS232/422/485
2 x mini-PCIe sockets, 1 x CFast, 2.5" HDD Bracket, 2x GbE, 3x USB, 2nd display-VGA/Line-out/ PS2 KB/MS
IP65 compliant front panel
12V~ 30VDC wide power input range
Ordering Information
APPC 1240T
12.1" SVGA LED backlight touch panel PC, Intel® Atom™ E3826 1.46GHz, touch screen, 4GB DDR3L, 2xRS232/422/485 and 4x4 DI/O with isolated protection, brightness adjustment buttons, fieldbus module installed
APPC 1245T
12.1" XGA LED backlight touch panel PC, Intel® Atom™ E3826 1.46GHz, touch screen, 4GB DDR3L, 2x RS232/422/485 and 4x4 DI/O with isolated protection, brightness adjustment buttons, fieldbus module installed
APPC 1540T
15" XGA LED backlight touch panel PC, Intel® Atom™ E3826 1.46GHz, touch screen, 4GB DDR3L, 2x RS232/422/485 and 4x4 DI/O with isolated protection, brightness adjustment buttons, fieldbus module installed
APPC 1740T
17" SXGA LED backlight touch panel PC, Intel® Atom™ E3826 1.46GHz, touch screen, 4GB DDR3L, 2x RS232/422/485 and 4x4 DI/O with isolated protection, brightness adjustment buttons, fieldbus module installed
APPC 1940T
19" SXGA LED backlight touch panel PC, Intel® Atom™ E3826 1.46GHz, touch screen, 4GB DDR3L, 2x RS232/422/485 and 4x4 DI/O with isolated protection, brightness adjustment buttons, fieldbus module installed
Mini-PCIe Fieldbus Interface Module Selection Table
Photo

Model

Protocol

P/N

FBI90E-PNM

PROFINET Master

P/N: 88IA1932T00X0

FBI90E-EP

Ethernet/IP Master

P/N: 88IA1932T01X0

FBI90E-ECM

EtherCAT Master

P/N: 88IA1932T02X0

FBI90E-PBM

PROFIBUS Master

P/N: 88IA1932T03X0
12V, 60W AC/DC power adapter w/o power cord (P/N: 7400060017X00)