NEXCOM has released the mini-ITX industrial motherboard NEX 617 to push innovation forwards by making intelligence more accessible. Based on Intel® Celeron® processor J1900, the NEX 617 features an integrated Intel® HD Graphics, enabling faster media conversions and video transcoding than the previous generation of Intel® Atom™ processors. Combined with its competent computing, rich I/O sets, and expansion flexibility, the NEX 617 brings intelligence to where it lacks and gives pushes to industrial applications including X-ray inspection, motion control, telemedicine kiosks, and self-service information stands.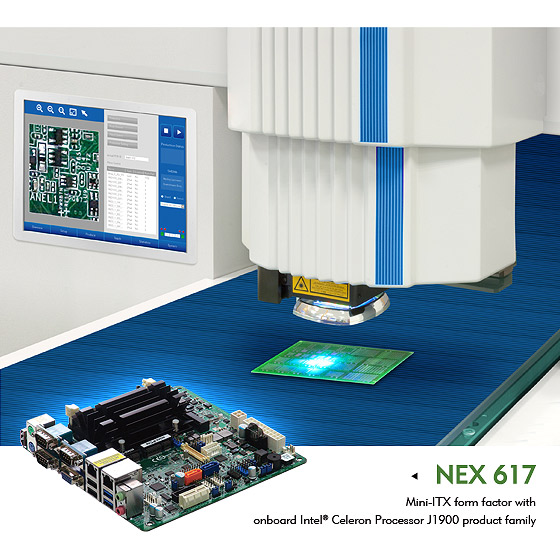 The industrial motherboard NEX 617 is powered by Intel® Celeron® processor J1900 integrated with Intel® HD Graphics. The NEX 617 is packed with quad-core computing power and supports graphics APIs including DirectX 11 and OpenGL 3.2. With support for up to 8GB of DDR3 1333 MHz, the NEX 617 delivers high responsiveness required of intensive graphics processing and can be used in applications including 3D imaging for non-intrusive visual inspection, 3D trajectory plotting for motion controller, and medical checkup for telemedicine kiosks.
The NEX 617 features rich I/O sets to work with peripherals. Despite its mini-ITX form factor, the industrial motherboard NEX 617 provides a combination of including six USB 2.0, four USB 3.0, three COM, and two GbE LAN ports. As for display output, the NEX 617 supports dual independent displays with VGA, HDMI, and 24/48-bit LVDS at 1920x1200 resolution. Along with one mini-PCIe and one PCIe slots, the NEX 617 can be configured with a total of fourteen USB and five COM ports through expansion. Moreover, the NEX 617 supports 9~19VDC and ATX power input to offer flexibility of installation.
Main Features
Intel® Celeron® processor J1900
Integrated Intel® HD Graphics with support for DirectX 11 and OpenGL 3.2
2x SO-DIMM for up to 8GB 1333MHz DDR3
3x RS-232/422/485, 2x RS-232, 1x HDMI, 1x D-Sub, dual channel 24-bit LVDS, 4x USB 3.0, 6x USB 2.0, 2x SATA 2.0, 2x GbE LAN
9~19 VDC or ATX power support
Ordering Information
NEX 617-DB (P/N: 10G00061700X0)
Mini-ITX form factor powered by onboard quad-core Intel® Celeron® processor J1900, 24/48-bit LVDS, up to 8GB DDR3/L memory, rich I/O sets
NEX 617- 20PBK (P/N: 10G00061701X0)
20-in-1 bulk-packed Mini-ITX form factor powered by onboard quad-core Intel® Celeron® processor J1900, 24/48-bit LVDS, up to 8GB DDR3/L memory, rich I/O sets
I/O Bracket for NEX 617 (P/N: 50201A6003X00)
NEX 617 I/O Panel ver. A for I/O shield for 261D 159.2 x 44.9 mm