Smart parking solutions enhance parking space utilization by guiding users to the nearest available parking spot. It offers citizens greater convenience, eases parking and reduces road congestion. This is achieved through sensors in parking lots that monitor occupancy and relay this data to users via mobile apps and overhead display boards.
NEXCOM has announced NDiS B561-PoE fanless visual edge computer, powered by the 12th Gen Intel® Core™ processor series and Intel® 600 series chipset integrated Intel® UHD Graphics 770 graphics controller, can handle powerful multimedia content. To fully satisfy customers' expectations, there are three 4K2K independent display outputs or up to 8K@60Hz in one display output and rich connectives including 8 x USB 3.2, 3 x LAN ports (including 2 x PoE ports), Wi-Fi 6E and 4G, 5G support. Besides smart parking, the NDiS B561-PoE can also be used for outdoor applications such as QSR, bus station and even smart stadium.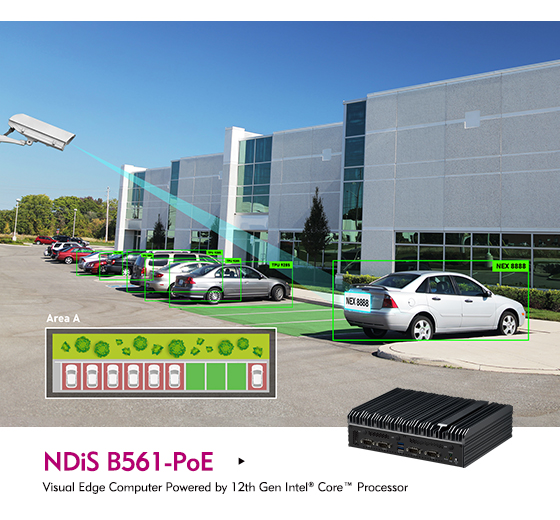 ESimplify Network Expansion with PoE LAN Ports
Featuring 2 PoE LAN ports, the NDiS B561-PoE enables the connection of numerous PoE-compatible devices like wireless access points or PoE cameras without requiring extra power sources for imaging transmission or AI image recognition. This simplifies cable organization, reduces mess, and streamlines the process of network setup and expansion.
Unleash Stunning Visuals with HDMI 2.1 and HDMI 2.0 Interfaces
NDiS B561-PoE offers 1 x HDMI 2.1 and 2 x HDMI 2.0 interface. HDMI 2.1 offers significantly higher bandwidth, supports higher resolutions 4K gaming, 8K content, and high-quality audio and video experiences when compared to HDMI 2.0. 8K resolution provides 4 times the number of pixels as 4K (Ultra HD). This results in incredibly sharp and detailed images, making it ideal for larger screens and displays.
Wi-Fi 6E and 5G Revolutionize Data Transmission for Enhanced Urban Services
Wi-Fi 6E and 5G provide faster and more reliable connectivity, ensuring that various smart city devices and sensors can transmit data efficiently. This results in improved communication between devices and quicker response times for applications like traffic management and public safety.
Main Features
Support 12th Gen Intel® Core™ i7/i5/i3 LGA socket type embedded processor, up to 35W
Intel® Q670E
Intel® integrated UHD graphic engine driven by Xe architecture
Support 3 independent 4K2K@60Hz display output. HDMI 2.1 resolution can be up to 8K@60Hz
1 x HDMI 2.1, 2 x HDMI 2.0
8 x USB 3.2, 4 x COM
1 x GbE LAN, 2 x 2.5G GbE LAN (PoE for B561-PoE)
Support M.2 Key B/E/M
Support extended temperature -20~60°C (B561 only)
Fanless design
Ordering Information
NDiS B561 (P/N: 10W00B56101X0)
12th Gen Intel® Core™ processor (up to 35W) fanless system, Intel® Q670E chipset
NDiS B561-PoE (P/N: 10W00B56102X0)
12th Gen Intel® Core™ processor (up to 35W) fanless system, Intel® Q670E chipset, PoE