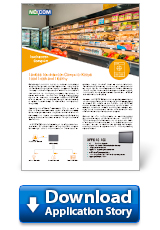 Commercial businesses, such as supermarkets, are always searching for methods to remain competitive through digital transformation. One area where they often struggle is in managing their large number of refrigerators and freezers. Business owners need to ensure that the temperature is always maintained at the correct level to keep their food fresh, while optimizing energy consumption. To address this challenge, NEXCOM's XPPC 10-100 offers a solution that not only controls and monitors cooling appliances, but also employs the power of AI at the edge and an IoT gateway.
Powered by the Intel® Celeron® processor and DDR3L support of up to 8GB, this fanless touchscreen computer can perform AI tasks locally, without relying on cloud computing. Once implemented onto their cold storage units, this computer promotes digital transformation via detecting temperature fluctuations to maintain the highest standard of food freshness.
The XPPC 10-100 is a slim bezel computer that offers a clear multi-touchscreen LCD panel with 400 nits of brightness. When integrated with cooling appliances, the fanless computer functions as an IoT gateway. Through the HMI of the control panel, customers can monitor, operate, and control the temperature, humidity level, and lighting settings for their refrigerators and freezers. Additionally, these settings can be adjusted and arranged in advance based on business hours, helping to save labor costs and reduce up to 10% of total power consumption yearly.
Moreover, the XPPC-10-100 acts as an IoT gateway, collecting and transmitting data from temperature, lighting, and sensor controllers to the cloud. With its COM port and RJ45 GbE, the XPPC 10-100 enables seamless connectivity and data transfer between the cooling appliances and the cloud. Businesses can now gain real-insights into their operations, monitor performance, and make informed decisions based on data-driven analytics.
Compliant with IP65, this fanless computer provides customers with a reliable digital transformation solution. The XPPC 10-100 is not only a slim bezel computer that guarantees power efficiency and reduces labor costs, but also a versatile and intelligent solution that combines IoT gateway technologies, enabling businesses to stay competitive in the rapidly evolving digital landscape.
Application Diagram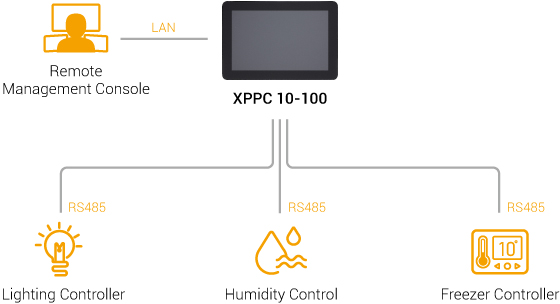 Key Features for Application Needs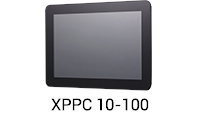 10.1" TFT WXGA 16:10 panel
10-point PCAP multi-touch with slim bezel design
IP65 protection on the front
Support: VESA/panel/open frame mount
Intel® Celeron® processor J3455
1 x DDR3L up to 8GB, M.2 2242 Key M for storage device
Support power input 19 VDC