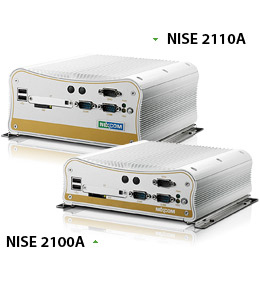 A world leader in Industrial Computer Solutions, NEXCOM, has expanded its range of fanless embedded systems with the launch of the NISE 2100A Series. Designed to operate in industrial temperature ranges and equipped with the latest generation of Intel® Atom™ D525 Dual Core CPU, NISE 2100A is the perfect solution for a whole host of Industrial Computing applications within extreme environmental conditions.
Powered by Atom™ Dual Core D525 with DDR3 Support
The NISE 2100A Series is powered by Intel® Atom™ D525 Dual Core 1.8GHz processor with ICH8M chipset. This advanced Intel® based technology boasts 50% better performance than the previous generation of Atom™ N270 CPU, with only a small increase in power consumption. In addition, with DDR3 memory module support, NISE 2100A is capable of fulfilling mainstream market requirements for increased performance with lower system configuration costs.
Ruggedized Design in Harsh Environments
Housed in a rugged aluminum chassis, NISE 2100A has been designed to operate in a wide range of temperatures, from -20 to 70°C. With exceptional industrial-grade components and state-of-the-art ruggedized design, the NISE2100A series is capable of offering high reliable and noiseless performance. This feature enables NISE 2100A to function in the severe environmental conditions usually associated with factory automation, industrial automation or transportation automation.
Versatile I/O Interfaces
The versatile NISE 2100A is suitable for a wide variety of diverse applications and therefore is equipped with a multitude of I/O interfaces including Dual LAN, four RS-232 COM ports, two RS232/ 422/ 485 COM ports with 2.5 KV isolation protection, four USB2.0, one VGA and GPIO port. In addition, for applications which require PCI expansion, a variant known as NISE 2110A is also available.

With a wide range of DC inputs, from 9V to 36V, as well as a built-in SIM card holder and mini-PCIe socket, NISE 2100A series is the best solution not only for industrial and factory automation but also for wireless communication, in-vehicle computer applications, transportation control systems, for example, Kiosk, self-service machine and ticket machine.
Main Features
On-board Intel® Atom™ Dual Core D525 (1.8GHz, 1M Cache) processor
One DDR3 SO-DIMM socket, DDR3 800 2G memory module support max.
Dual Intel® 1000/ 100/ 10 Mbps LAN ports
4 x USB2.0/ 1x VGA
1 x DB15 GPIO connector
4 x RS232 and 2 x RS232/ 422/ 485 with auto flow control
One external CF socket and one external SIM card holder
9 ~ 36V DC input
-20 ~ 70 degree C operating temperature support