NEXCOM will introduce Industry 4.0-based solutions for smart manufacturing at this year's Hannover Messe on April 25 to April 29 at Booth D15, Hall 9. In order to fulfill the connected factory concept, NEXCOM will showcase its Industry 4.0-based solutions including cyber-physical system (CPS) ready solution, robot solution, machine automation solution, and industrial security & connectivity solution.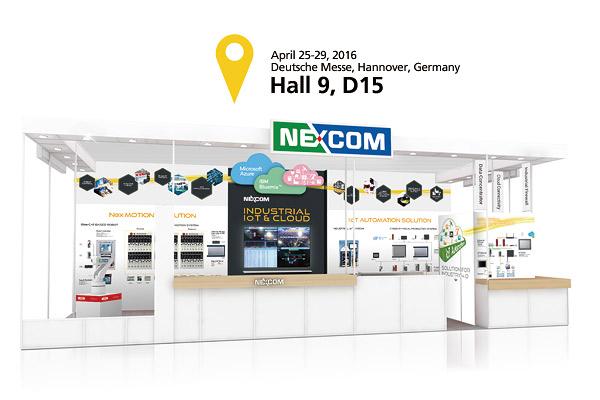 To declare ambition for Industry 4.0, NEXCOM will have live demonstrations showcasing how manufacturing data can be processed from field to cloud via NEXCOM IoT gateway for analytics to give manufacturers a better understanding of the factory status. The other path is where data will be collected from the factories by NEXCOM IoT gateway then sent to SCADA systems for data mining. Meaningful messages will then be delivered to the cloud for headquarters to conduct data-driven decision making (DDDM), improve operations, strengthen security barriers, simplify device management, and even reduce maintenance costs.
NEXCOM CPS ready solution comprises four layers, including fieldbus remote I/O, PC-based controller, SCADA/human machine interface (HMI), and cloud connectivity. NEXCOM provides open-architecture PC-based controllers that have cross-communication capability to connect different remote I/Os, supporting multiple fieldbus protocols and data communication between field devices and the cloud. To satisfy the needs of cyber-physical systems in Industry 4.0, NEXCOM has developed a comprehensive series of PC-based IoT controller solutions ranging from Intel® Core™-based NIFE 300, Intel® Celeron®-based NIFE 200, to Intel® Atom™-based NIFE 100 to offer scalable computing performance for different applications. NEXCOM CPS ready solution is completed with cloud connectivity solutions which consist of gateways, Wi-Fi access points (APs), and firewalls.
NEXCOM will also showcase robot solution by interacting with the visitors. Using Kinect sensors, NEXCOM's high performance EtherCAT-based controller will command 6R robot to perform the same motions as the visitors, while the visitors' goal will be to guide the 6R robot to place toy bricks in the assigned shape.
For machine automation solution, NEXCOM will carry out an eye-catching demonstration to showcase its machine automation products. To show the high accuracy in movement control, NEXCOM's EtherCAT-based controller will control up to 48 motors and drivers to dance along to the beats of the music and form the combination of the vocabulary selected by the visitors.
For industrial security & connectivity solution, NEXCOM will introduce how valuable data from a production line can be transferred to the cloud securely. Factory information collected from industrial devices will be sent to the cloud through NEXCOM IoT gateway CPS 200, which supports communication with cloud via MQTT and SQLite. The data will then be secured by NEXCOM's industry firewall IFA series before sending it to the cloud via wireless connectivity. Furthermore, NEXCOM will present its industrial wireless products including mesh point, AP, and device server for a seamless network connectivity where data can be exchanged between field sites and headquarters, providing a clearer view of the factory operations thus to better conduct effective decisions and increase productivity and ROI.
Last but not least, NEXCOM will also introduce an open community and marketplace called All IoT Cloud (AIC) to the public for users to build IoT/Cloud E2E ecosystems with ease.
As one of the leaders in smart manufacturing, NEXCOM will bring out Industry 4.0-based solutions. Sincerely invite you to visit us at 2016 Hannover Messe in Germany on April 25-29!
Event Details
Date: April 25-29, 2016
Exhibition Center: Deutsche Messe, Hannover, Germany
Booth: Hall 9, D15