NEXCOM has released the fanless computer NISE 301 to help build an automation and control network with a streamlined architecture. Based on Intel® Atom™ processor E3845, the NISE 301 has packed quad-core computing power and flexible function expandability onto a fanless compact hardware platform with a user-friendly design feature of front access to all connectors. The NISE 301 can consolidate functions of PC-based controllers, human machine interfaces (HMI), and industrial gateways, being a key enabler of industrial Internet of Things (IoT).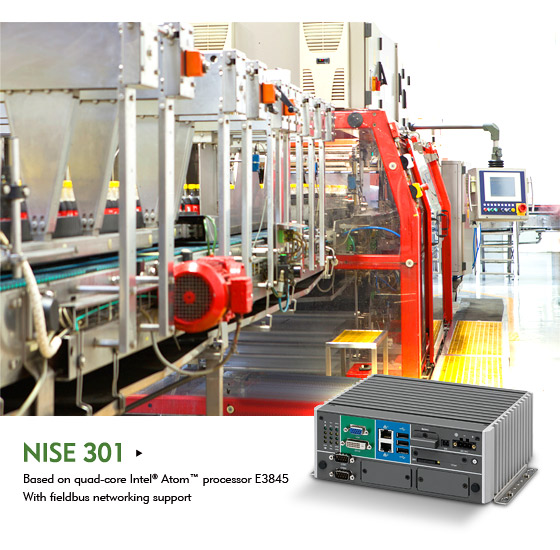 NEXCOM has built the fanless computer NISE 301 with quad-core Intel® Atom™ processor E3845. Based on the multicore architecture, the NISE 301 can run multiple operating systems including Windows and QNX. Moreover, the NISE 301 can optimize performance of compute-intensive applications by allowing, for instance, deterministic control to run on dedicated computing cores. Meanwhile, the NISE 301 can support control programming and HMI interface, helping substation operators control and monitor manufacturing processes. With the multitasking and multifunctional capabilities, the NISE 301 helps reduce the number of hardware units required on factory floors, simplifying the deployment and maintenance of control networks.
The NISE 301 provides a unified architecture for function consolidation. Featuring two mini-PCIe sockets, the NISE 301 allows users to build compact controllers with desired functions through optional modular expansions. Functions including fieldbus networking, communication, internet connectivity, and I/Os can be added based on application requirements.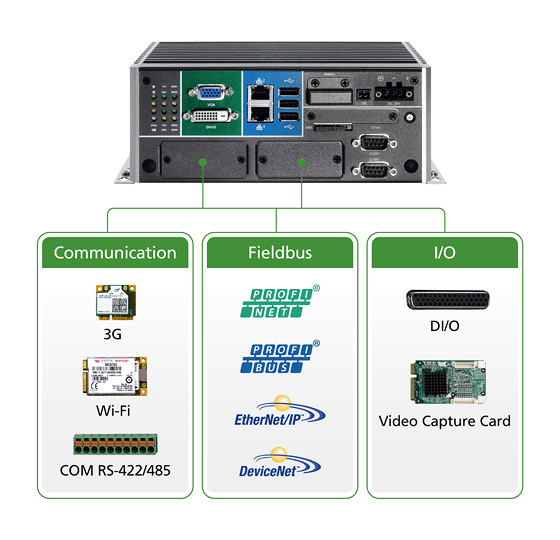 The NISE 301 offers many user-friendly design features: the fanless design which can increase long time reliability; and a 2U compact chassis which measures 205mm wide, 80mm high, and 160mm deep and has all connectors aligned on the front side to provide the ease of installation. The NISE 301 also offers front access to interchangeable parts including system battery, CFast, and HDD/SSD, aimed to facilitate maintenance and maximize the uptime of the NISE 301.
Main Features
Onboard quad-core Intel® Atom™ processor E3845, 1.91GHz
2x mini-PCIe sockets, 2x COM port expansions
2x USB 2.0, 1x CFast (SATA 3.0), 1x 2.5" HDD (SATA 3.0)
Wi-Fi/GSM
VGA/DVI-D
External RTC battery holder
DC input 24V +/- 20%
Ordering Information
NISE 301 System (P/N: 10J00030100X0)
24V, 60W AC to DC power adapter w/o power core (P/N: 7400060024X00)