The newest arrival to the edge computing family is here! The Neu-X302 is specially designed to fulfill the need for an embedded computer with rich I/O connectivity for industrial testing equipment and measuring machines, as well as equipment servicing machines. Delivering high performance in a small package, the Neu-X302 uses your choice of Intel® 8th or 9th Generation Core™ processors in a fanless chassis, while including plentiful I/Os for increased functionality. Additional VGA, COM, and USB ports ensure that legacy and the latest equipment alike will have full connectivity.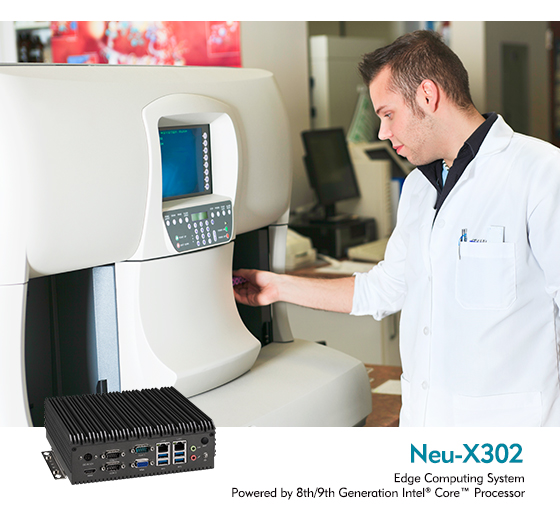 Selection of productivity-maximizing I/Os
The Neu-X302 fanless computer offers a variety of I/Os to ensure that all of your essential peripherals are connected, while saving the costs of adding unnecessary expansion cards. We've most notably boosted the number of COM and USB ports, providing six COM (three RS232 and three RS232/422/485) to link up your peripheral controllers and ten USB for ancillary devices, such as sensors and signal testing equipment. For graphic output, absolutely necessary for kiosks and equipment service panels, we've included a VGA port. This is on top of HDMI output for a second independent screen, which can provide 4K resolution for factory display panels.
The all-inclusive system
That's not all! For kiosk and digital signage uses, having both visual and audio communication mechanisms are essential to capture consumer attention. With the internal pin header for speakers you can transmit messages aurally. We've also integrated an 8-channel GPIO to conveniently connect with diodes, LEDs, and other sensors and displays. What's more, besides a SIM card holder, two expansion slots for storage and wireless connectivity are available, one each of M.2 Key B and M.2 Key E. You can also include a 2.5" SATA SSD for extra storage needs.
Power up!
The Neu-X302 is larger than previous models but more compact. For superior computing capabilities, the fanless PC is onboard with your choice of 8th or 9th Intel® Core™ socket-type CPUs. The fanless design saves space and means less maintenance. In addition, Intel® AMT provides the ease of remote monitoring and maintenance, and optional TPM 2.0 cryptoprocessor chip ensures absolute hardware security. The IoT gateway is also ruggedized, conforming to CE and FCC Class A standards.
Main Features
Supports 8th/9th Intel® Core™ socket type processor
Dual channel DDR4 SO-DIMM, 32GB max.
1 x VGA and 1 x HDMI 1.4 4K display output
Dual Intel® Gigabit LAN ports
6 x COM, 10 x USB, Mic-in/Line-out
Optional TPM 2.0 for security advantage
Supports Intel® AMT
Onboard M.2 Key B/E for storage & wireless connection
Ordering Information
Neu-X302-Q (P/N: 10W10X30200X0)
8th/9th Intel® Core™ edge computing fanless system with Intel® Q370 onboard
Neu-X302-H (P/N: 10W10X30201X0)
8th/9th Intel® Core™ edge computing fanless system with Intel® H310 onboard