Consider the scenario of clinics 30 years ago, where doctors used pens to record health records and x-ray films to examine bones. Fast forward to today, keyboards, mice, digitizers and high resolution displays occupy the doctors' desks. Yes, IT devices have increasingly become more important than ever, even the clinics nearby your home adopt computerized physician order entry. According to Research and Markets, the North American healthcare IT market is forecast to grow at a CAGR of 7.4 percent, while MarketsandMarkets estimates the global medical informatics market to reach $56.7 billion by 2017.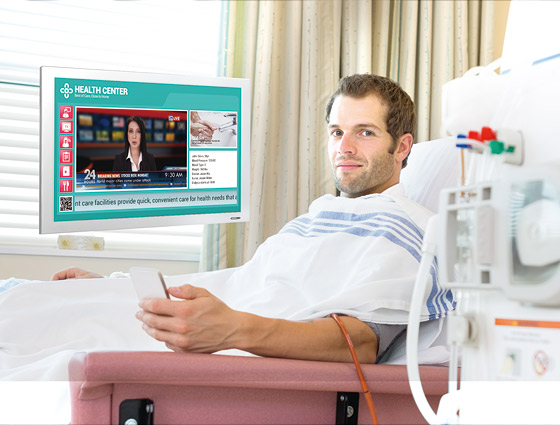 Much of this growth is driven by the need to cut healthcare cost and improve medical care. There are already some healthcare IT implementations in place that streamline hospital procedures such as billing, medical imaging and diagnostic information. However, emerging technologies like IoT (Internet of Things), cloud computing and big data analytics are opening up new IT services for the medical business. One example is connected medical devices that can share clinical data and enable wireless health monitoring.
Foreseeing the potential of healthcare IT, NEXCOM has, for a long time, been exploring the possibilities to enter the medical informatics market by developing sensor gateways, networking and cloud computing related technologies. In a recent project, NEXCOM and its partners have successfully developed a total hardware-software solution for healthcare IT and won the first ticket to the dialysis automation market.
The dialysis machines used in this project were stand-alone and unconnected, and required significant man power and effort to operate. Patients had to follow the instructions from nurses and doctors and go through all the check points by themselves, from registration, measurement, to the end of the dialysis process. All procedures were done manually, which was cost ineffective. To computerize the process with IT technology, NEXCOM and its partners built sensor networks and backbone servers that can collect and consolidate clinical data.
With NEXCOM's solution, patients were able to complete the registration and measurement process automatically using RFID cards. All the data collected from the dialysis machines were transferred to a central server through Ethernet, where doctors and nurses can monitor the patient's status remotely on the computer display. At patients' beds, doctors and nurses could also monitor the patients' conditions with medical PADs connected to the network. NEXCOM's solution not only helped the hospital to minimize the cost and effort in maintaining a dialysis center, but also improved the quality of medical care.
With a wealth of IT experience and technological capability, NEXCOM is the perfect IT service provider for the medical informatics market. The hemodialysis automation system in this project is just a beginning. We believe that by combining our expertise in IoT, cloud computing and sensor technology along with hardware and software support from our partners, NEXCOM can play a major role in the medical informatics market.