Leak-Free Crime Recognition and Trusted Emergency Service All Day Long
Unbalanced utilization of vehicles often hampers peak performance of critical public services such as police, ambulance, fire protection, waste management, municipal services and airport ground handling. To offer fast, efficient and on schedule public services, vehicles on the field need to be connected and managed by the IT systems in service centers. Using telematics-based fleet management, service centers can establish a reliable real-time connection to fleets, allowing operators to monitor vehicle conditions and fleet operations, dispatch vehicles and respond to emergency issues. This well-planned solution can also enable service centers to identify any idle or overused resources so that optimizations can be made to the public services.
In-vehicle computers are one of the most important core components in this IT system. NEXCOM's in-vehicle computers integrate WWAN and WLAN communication and real-time satellite positioning to deliver an always-on, always-visible connection. Combined with the ability to further integrate with vehicle sensors such as siren, fuel and door sensors, in-vehicle computers can provide up-to-date status information and location to service centers, allowing operators to identify and respond to events remotely.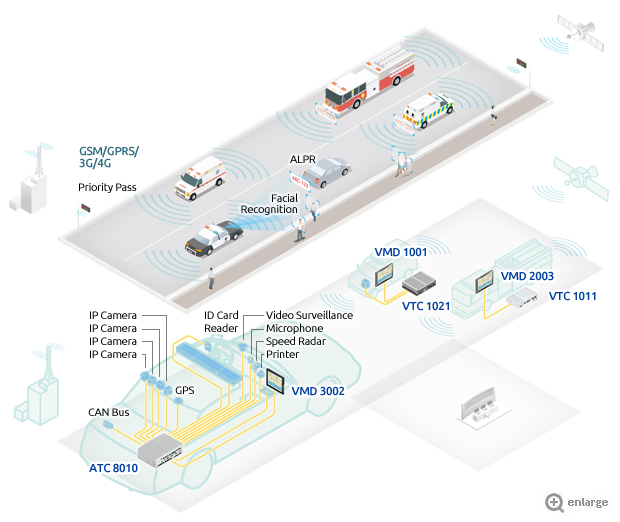 Key Requirements
Ability to aggregate video feeds from multiple IP cameras
High graphic performance for sophisticated image processing
Real-time surveillance on multiple video displays
Easy system installation to fit in vehicles with limited space
Real-time vehicle status monitoring
Prompt emergency-mission dispatching with the most optimal route for the destination
Quick and trusted communication with emergency and control center
Uninterrupted power supply to systems
Display and system integration for large trucks with simplified cabling
All-in-one PoE design to lower total cost of ownership (TCO) and facilitate maintenance
NEXCOM's Solutions
360-degree view from 8 IP cameras over PoE ports
Fast automatic license plate recognition (ALPR) and face detection powered by Intel® Core™ i7 processor and NVIDIA GeForce® GTX 1050 graphics card
Video wall setup with 5 displays using HDMI and 1 display through VGA
ultraONE+ technology to solve the cabling issue and video signal degradation in harsh vehicle operating environments
CAN bus 2.0B to check the vehicle status accurately and quickly
Vehicle mount computer to show the job assignments and route map
Support multiple telecom carriers (3G and LTE) to guarantee the communication and data transmission between the vehicle and control center
Backup battery ensures uninterrupted system operation
Supporting PoE 802.3 af/at for IP cameras and other devices