Born Tough to Increase Efficiency and Productivity
In the primary sector, the use of smart raw material management with modern technology and business intelligence is becoming ever more important in providing energy-efficient food production. The global warming has given rise to the food resource crisis and placed the agriculture industry under great pressure; agriculturists need more efficient methods to maximize harvest yields in decreasing arable land. Using in-vehicle computers integrated with GPS and sensor technology, farming equipment can be steered automatically with turn-by-turn navigations without missing an area in the crop field and with improved seed and fertilizer distribution.
On the other hand, in the mining sector, modern mining management systems use a central dispatch controller to monitor all truck and equipment activities within a mine operation. Events such as trucks travelling out of the predefined route or falling behind schedule can be identified in real-time, allowing central dispatch to immediately send on-screen alerts to drivers' vehicle mount computers to take corrective actions. In addition, job reassignments such as dispatching new tasks to drivers can be centrally managed and allocated in real-time to improve mining operations.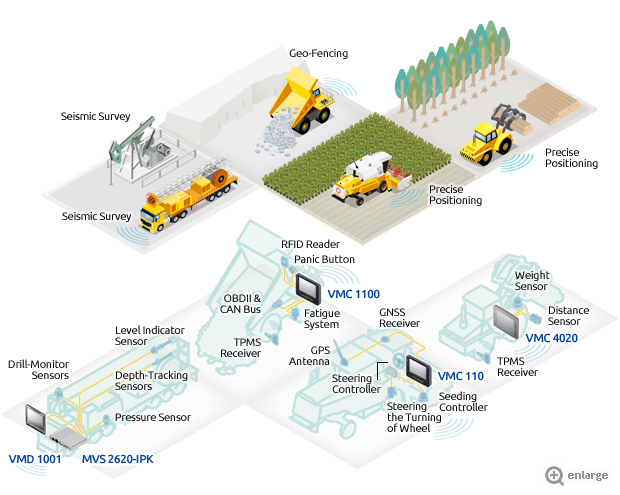 Key Requirements
Sunlight readable display
Precise and real-time location of the vehicle
Reliable operation in extreme weather conditions
Water and dust protection for harsh environments
Easy connection to peripherals
NEXCOM's Solutions
Powered by Intel® processors for fast and strenuous work
High-brightness LCD touchscreen panel with low reflection
Global navigation satellite system (GPS/ Glonass/Galileo/BeiDou) for accurate positioning of the vehicle
Rugged design and IP65 protection for reliable operation in extreme and outdoor environments
Built-in communication ports such as USB/ COM/GPIO/CAN bus/mini-PCIe to connect peripherals and acquire vehicle data