In-vehicle surveillance is a practical yet cost effective manner to keep track of all events onboard, providing faithful records of passenger activities as well as real-time cockpit status for enhanced protections. NEXCOM has never stopped innovating on mobile communications and the latest IP65-grade in-vehicle computer, VTC 7252-7C4IP, with more features beyond surveillance, enables a higher level of security for passengers and cabin crew. The 5G-enabled mobile PoE computer supports live streaming video, making quick communications with command room on the remote a reality. Multiple certifications reinforce protections in harsh environments. IP65 offers proof against water and dust while military-grade MIL-STD-810G guarantees shocks and vibrations are of no threats.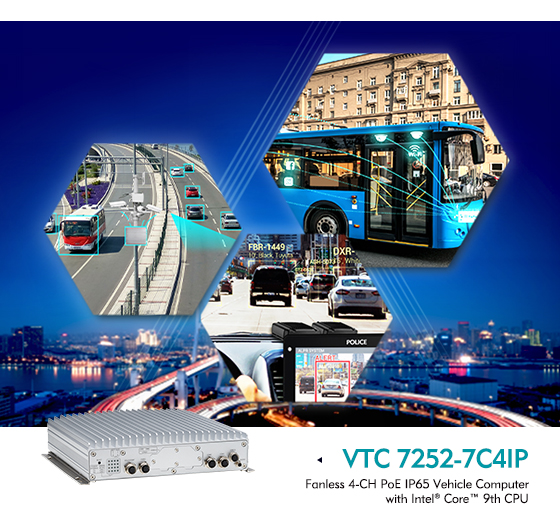 More powerful to power more
Fueled by Core™ i7-9700TE, an Intel® 9th Gen processor, VTC 7252-7C4IP supports simultaneous real-time monitoring on multiple IP cameras, ensuring real-time status of passenger behavior is accessible to the driver as well as command room. The cockpit monitoring, working along with the vehicle safety system or as a standalone function, helps detect and alert the driver when status of drowsiness or distraction is detected. A total of 4 PoE 802.3af/at ports, combining up to 60-Watt, are available for power supply over the existing data connection, convenient for system setup in space-limited contexts.
5G-ready smart patrol
The introduction of 5G network also opens up new applications to mobile surveillance. As statistics shown, early adaptations of new in-vehicle surveillance system brought positive feedback from the police authorities around the globe. The 5G-enabled surveillance is more responsive, faster in data transmission, and connects a patrol camera with high resolution in seconds. Built-in GPS informs accurate whereabouts of fellow units, enabling seamless coordination among vehicles when connected, ideal for joint actions by law enforcement agencies. VTC 7252-7C4IP is also fully compatible with major accelerator cards, Google Coral or Intel® Movidius™ Myriad™ X, allowing image analysis to be run locally at the edge for quick results, without having to resort to the cloud.
Designed to be tough
Rated IP65, the in-vehicle computer is built with proof against water and dust to work reliably in rigorous environments. A comprehensive list of major certifications, including CE, FCC, E-mark (E13) and MIL-STD-810G, guarantees the appliance could withstand dust, moisture, and temperature changes, supporting vehicles in bad weather and extreme working conditions.
Outstanding for outdoor use
The rugged nature of VTC 7252-7C4IP suggests its potentials in outdoor applications. A use case for traffic surveillance illustrates how it performs under the challenges of the mother nature. Fixed high above at the end of an electric pole for traffic surveillance, the IP65-grade fanless computer functioned the same solid on the 24/7 task.
Main Features
Intel® Core™ 9th Gen, i7-9700TE, up to 3.8GHz, 8 Core
Full IP65 protection
4 x Independent 10/100/1000 Mbps PoE 802.3af/at, total 60W
2 x Internal 2.5" SSD and 2 x mSATA for RAID 0, 1, 5, 10
2 x Isolated CAN Bus 2.0B
1 x External CFast and 2 x SIM socket with door
Support 5G NR, Wi-Fi 6, V2X and AI accelerator cards
CE/FCC/E-mark (E13) /MIL-STD-810G
Ordering Information
VTC 7252-7C4IP (P/N: 10V00725200X0)
Intel® Core™ 9th Gen i7-9700TE, 2 x 4GB industrial-grade memory, VGA output, 2 x internal 2.5" tray, 1 x CFast, 2 x LAN, 4 x PoE 802.3af/at (total 60W), 2 x mini-PCIe slot, 2 x M.2 slot, 2 x SIM socket