Unlock your business' multimedia potential with the AIEdge-X®300. The visual solution, with its compact and hip design, maintains the Neu-X300's powerful computing abilities with your choice of Intel® 8th or 9th Generation socket-type processors, while expanding support for advanced GPUs such as, but not limited to, the NVIDIA RTX 2060. Especially for use in visual simulation and AI applications, the industrial, AI-enabled edge computing system also engages customers with eye-catching visuals in smart manufacturing, smart retail, VR/AR training, facial/object recognition, and other interactive environments.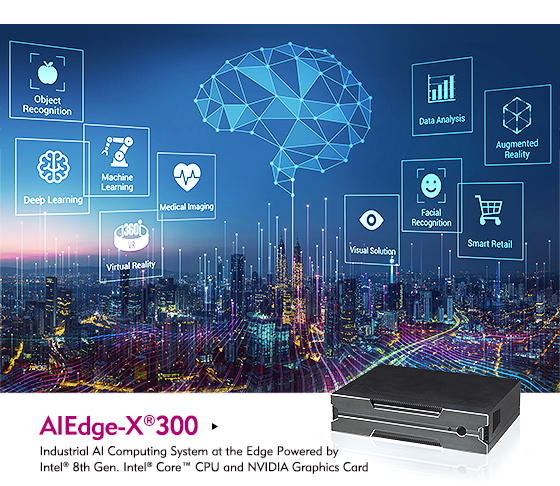 Quality first
The AIEdge-X®300 balances price with productivity, using Intel® 8th and 9th Generation Core™ processors, such as the i9 9900-T, to bring AI analytics to the edge. The CPUs pair beautifully with powerful NVIDIA RTX 2060 GPU-integrated graphics cards, allowing you to deliver substantial computational power in accelerating AI and deep learning tasks. Computation intensive tasks also won't be affected by insufficient power or overheating, as the edge AI system includes an incredible 500W Flex ATX power supply so that it always performs optimally. It also includes an additional CPU cooling kit to ensure the system remains cool when operating at full speed.
Your imagination is your limit
The graphics card-expandable edge PC is the multipurpose solution to engage customers across a spectrum of applications. Most importantly, the powerful yet cost-effective combination of advanced graphics card and Intel® CPU is perfect for AI purposes, in fields as diverse as healthcare and entertainment. Utilize up to three HDMI connectors for interactive displays and projections, both outdoor and indoor – including museums, festivals, and other venues – to instantly catch patrons' attention. The AIEdge-X®300 is also a superior choice for retail and with its ease in conveying information to build customer relationships.
Max out the potential
The AIEdge-X®300 combines a flexible design with an aesthetic touch. The PCIe x16 expansion slots increase the system's functionality, most suitably for installing any of the aforementioned advanced graphics card. The visual solution also provides extra HDD space for another hard drive, enabling you to pack in additional TB of storage or dedicate to mounting your OS. Last but not least, the streamlined, sleek design blends effortlessly with all of your other devices.
Main Features
Supports 8th/9th Gen. Intel® Core™ i5/i7/i9 socket type processor up to 65W
PCI-e slot supports PCI-e x16 graphics card up to 160W
Validated with NVIDIA® GeForce® RTX 2060 graphics card
Supports optional M.2 module for Wi-Fi and flash storage
Supports 1 x SATA 2.5" HDD/SSD or 1 x 3.5" HDD/SSD
Ordering Information
AIEdge-X®300 (P/N: 10W20X30000X0)
Industrial AI computing system at the edge, powered by Intel 8th/9th Gen. Intel® Core™ CPU and NVIDIA® GeForce® RTX 2060 graphics card