Setting up an integrated system for all of your automation devices and equipment is no easy task. You need a powerful and cost-efficient motherboard and ensure that the entire system will be compatible and functional. Not only that, you need to pre-plan for future expansion. With our newest NET 355 hybrid motion control system, we've made life stress-free by incorporating all of the following into a small form factor: two protocols (EtherCAT and Mechatrolink), a proprietary management software stack, a user-definable and scalable FPGA, and an array of I/Os. The NET 355 Series comes in various models: the MCB 355 as our basic industrial motherboard, MARS 355 with hard shell, and MPC 355 as a complete, all-in-one panel PC for ultimate protection.
All-in-one system, at your service
The motion control boards are suitable for applications including factory automation, CNCs, robots, AI, and machine vision. You can also pair the NET 355 Series with other NexCOBOT motion control solutions for a more comprehensive, segmented system. Use a host computer for communication protocols and simultaneous cloud uploads, and a slave computer to control machinery action and monitor conditions, all in all speeding up production and saving time.
Hybrid protocols for more choices
With the NET 355 Series, you'll have flexibility and choice in communicating with all of your automation devices, no matter what protocols they use. We use the industry-standard EtherCAT protocol for easy utilization of existing Ethernet connections, which decreases cycle times and communication jitter, while additionally including a specially-written proprietary driver to manage processes. With the inclusion of the Mechatrolink III protocol, not only can you enjoy transfer speeds of up to 100 MB/s, but you'll also be able to support up to 62 slave devices, allowing you to easily incorporate all of your hardware with just one computer.
FPGA optimizes workloads and increases flexibility
As a reconfigurable IC, the onboard FPGA allows you to adapt as your business grows, without replacing the mainboard, saving you money and time. Using an FPGA instead of CPU means easy programming for other D/I and D/Os, as well as removing the stress of purchasing additional expansion cards, thus preserving space for other computing needs. The NET 355's low-latency FPGA also features interrupt I/O, exclusive IRQ, and watchdog timer, and manual pulse generator support.
Streamline your processes by including proprietary software
To seamlessly integrate all of your system processes and maximize productivity without having to write your own algorithms, the NET 355 solution also includes our comprehensive software architecture. NexECM, our EtherCAT master stack software, runs on RTOS platforms and provides precise communication cyclic frames from EtherCAT master to slave devices. We also developed NexGMC, powerful motion control software which integrates NexECM and motion control kernels, while allowing users to develop their own motion control applications and HMI. All of the above are housed on RTX and INtime real-time operating systems to guarantee timely task execution.
Simple does it
The NET 355 Series is specifically designed to save space and easy installation. We meticulously selected the Mini-DTX form factor to be able to support all of the above features. Our motion control boards are also fanless, resulting in energy efficiency and compact size. The interface design places all of the outward-facing I/Os on one panel for direct access to external devices, connecting effortlessly and maximizing organization. Moreover, the layout of the MARS/MPC 355 models allow cables to run along the sides of the computer for stress-free installations.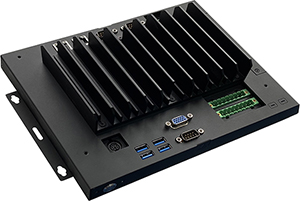 Main Features
Intel® Celeron® processor, Bay Trail J1900, TDP 10W
2 x Intel® I210 LAN port for EtherCAT communication
Encoder, D/I, D/O, MPG support
2 x Mechatrolink III support (optional)
1 x SO-DIMM DDR3L with non-ECC SO-DIMM 1333MHZ, up to 8GB
1 x MPG, 8DI/4DO/ WDT, SM Bus, DC24V
Supports VGA (MARS/MPC 355) and LVDS (MPC 355 only) displays
2 x Intel® GbE LAN ports, 4 x USB 3.0, 1 x PS2, 1 x RS232, 1 x RS232/485/422 (MARS/MPC 355 only); 6 x USB 2.0 (MARS 355 only)
1 x PenMount 9000 resistive touch controller (MARS/MPC 355 only)
15" 4:3 XGA fanless LED panel computer (MPC 355 only)
Motion System Panel PC Solution (MARS 355 only)
Ordering Information
NET 355E-ECM (32-bit & 64-bit)
Compact EtherCAT Master Controller
NET 355-GMC16 (32-bit & 64-bit)
16-axis General Motion Controller
MCB355 Motion Control Mainboard (P/N: 6879MB350000F)
Intel® Celeron® J1900 EtherCAT/Mechatrolink hybrid mainboard
MCB355-E Motion Control Mainboard (P/N: 6879MB35E001F)
Intel® Celeron® J1900 EtherCAT only mainboard
MARS355 Motion Control PC (P/N: 6879MR35E001F)
Intel® Celeron® J1900 + FPGA, 1 x VGA/1 x LVDS/4 x USB 3.0, DDR3L up to 4GB/1 x PCIe x16/1 x M.2 support 2280, 2 x 8-pin terminal block for 4 x D/I & 8 x D/O, 24V input
MPC355 Motion Control Panel PC
15" Panel kit, VGA/1 x LVDS/4 x USB 3.0/2 x COM, DDR3L up to 4GB/1 x M.2 support 2280, 2 x 8-pin terminal block for 4xD/I & 8xD/O, 24V input