Stinova Ltd., developer of Digital Signage software solutions, and Digital Signage appliance provider, NEXCOM announced a partnership to enable turnkey solutions for the rapidly growing Digital Signage market.
This partnership enables new types of products for versatile Digital Signage applications. NEXCOM provides hardware solutions with a variety of unique hardware features that perfectly utilize the software features of Stinova's software editions. The TV-out option of the Intel® Core™ 2 Duo processor based NDiS 161 and Stinova's DMX software edition provides a perfect solution for hotels that want to establish a low cost hotel info channel over legacy coax cabling without the need to change any infrastructure. This is just one example of the manifold solutions that can be built with the hardware software combinations.
"We are pleased to increase our partner network with NEXCOM, a very well known appliance provider of Digital Signage embedded PC players" said Franz Hintermayr, Managing Director and CEO of Stinova. "We have completed testing and certification on NEXCOM's fan-less appliances that include the models NDiS 120, NDiS 161, NDiS 163 and successfully ported our Digital Signage software for both Linux and Windows", concluded Hintermayr.
"This partnership between Stinova and NEXCOM brings Stinova software to a wider audience with project winning solutions at highly competitive prices. Stinova's WEB based Digital Signage appliance software DMX and DMP offer unprecedented features and functionality that can be used in many different environments such as in-store promotions, Point-of-Sale, Shopping Malls, Public Foyers, Exhibitions, Museums and many others. Stinova's software makes it easy to combine complex media rich content elements with a few simple mouse clicks", said Steve Earle, Stinova's Territory Manager (Americas).
"We see Stinova as a perfect partner jointly targeting Digital Signage customers with a reliable and cost efficient turnkey solution that are truly scalable from a stand-alone appliance up to complex Digital Signage networks" says Peter Yang, President of NEXCOM. "We are pleased to partner with Stinova on a global level and leverage additional opportunities with the unprecedented flexibility of their advanced software solution."
"The output of the Stinova and NEXCOM partnership will utilize the capabilities of the Intel® Core™2 Duo processor and address the versatile requirements of the digital signage market segment," said Jose A. Avalos, director of Digital Signage at Intel.

Intel® and Core™2 Duo are trademark of Intel Corporation in the United States and other countries.
Other names and brands may be claimed as property of others.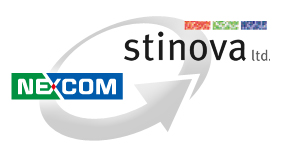 About Stinova
STINOVA Ltd. develops the core software technologies that power the worlds Digital Signage networks. These core technologies address all aspects of Digital Signage delivery from stand alone systems to dynamic Digital Signage Networks. STINOVA's IPTV products seamlessly integrate LiveTV and other Video Streams up to HDTV into multi-media Digital Signage content. For more information and product details please visit: www.stinova.com