The COVID-19 virus epidemic continues to spread globally, especially in the severely affected areas of China, where all the main producers of electronic components are located. Even if many factories in China have resumed production, there are still problems such as the shortage of raw materials and the possibility of shutting down factories due to employee illness. Taiwanese companies with production bases in China have to face the crisis of unstable supply caused by broken chains; however, NEXCOM, a major industrial computer manufacturer, will not be affected because of the Made in Taiwan (MIT) products.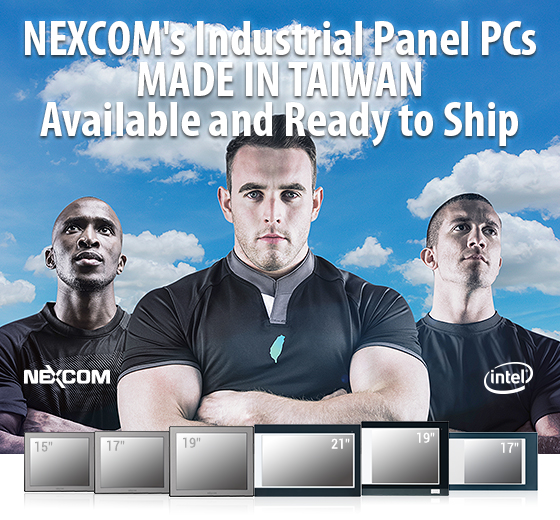 Joe Lin, general manager of NEXCOM, said: "This epidemic has affected a wide range of aspects, but NEXCOM will accompany Taiwanese businesses to tide over the obstacles. We guarantee our product is MIT. In addition to good quality and reliable delivery, we want to reduce customers' concerns about being indirectly exposed to the virus." NEXCOM has introduced automation and data acquisition equipment to its production line and upgraded it to a smart factory that is capable of responding quickly to orders. In 2018, the Linkou plant was expanded as a benchmark for combining the smart factory with the war room. The installed management system includes MES, WMS, and ERP. This system can achieve a one-stop service for orders, material conditions, inventory, manufacturing scheduling, and confirmation of delivery. NEXCOM's global manufacturing and assembly factories located in Taiwan provide fully autonomous local production status, and the shipping time is controlled within one week.
NEXCOM's industrial-grade Panel PC supply is ample. The Panel PC's full range covers 12.1", 15", 17", and 19" models. The 4:3 and 16:9 models meet the requirements of automated production for high-end human-machine interface (HMI) terminals. The mounting cutouts of APPC 1540T and APPD 1500T are designed to be mainstream sizes, which can be directly installed to have zero waiting time. The built-in Intel Intel Atom®, Celeron®, Core™ processors, with high-performance computing and image processing functions, can get accurate HMI control with faster 3D visual processing, video transcoding, data exchange, and response capabilities. The entire series of front panels pass IP66, which is suitable for waterproof and dustproof factory environments and equipment.
"NEXCOM wants to lead Taiwan to set the economic initiative," said NEXCOM CEO Clement Lin, "This outbreak is a crisis as well as an opportunity. Enterprises should re-examine their manufacturing strategies and consider to improve the production and competitiveness with digital transformation and automated production."
NEXCOM has practical experience in areas of smart manufacturing, transformation, and upgrading. It provides multi-party services of consulting and system integration. NEXCOM welcomes business owners to visit its Huaya Smart Factory and Enterprise War Room for a complete reference to intelligent manufacturing decisions system. NEXCOM will help individual corporations to carry out digital transformation reforms per the appropriate operations methods to face future market changes.
You don't have to wait around to buy industrial-grade Panel PCs. Get qualified for the priority shipment immediately, visit nexaiot.mailchimpsites.com/nexcom-mit-panel-pc, for details of the event of this sale.