The concept of war rooms has been widely spread for years and its implementation has greatly boosted the quality of decision-making and inspired business innovations. While the idea of staying "connected" is making its way towards the center stage into the manufacturing process, reacting to the incoming message right on the spot is even more crucial for the management at a distance. The NISE 70 is NEXCOM's latest enterprise gateway solution targeting remote management.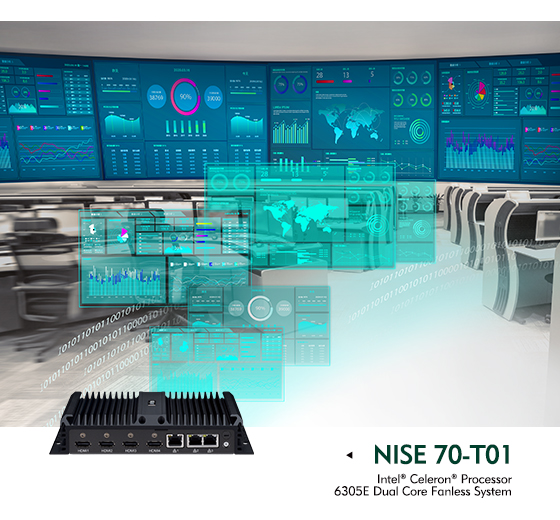 New Core with Upgraded Thermal
Harnessing an 11th Generation Intel® Celeron® 6305E processor, the NISE 70 is capable of delivering brilliant and smooth visuals in various scenarios. The latest Intel® Iris® Xe graphics engine is packed with more EUs (execution units), granting more computing power for amazing visual effects within less given time. Thanks to an aluminum chassis with thermal cooling fins, heat dissipation is efficient despite being fanless. A ruggedized design, along with tremendous thermal effects, guarantees long-term reliability against the wear and tear that operating in challenging contexts may bring about.
Built to Last: Industrial-grade Durable
What sets NISE 70 apart is its industrial-grade components. The selection in material choices allows NISE 70 to work reliably even in slightly demanding contexts, such as environments in the temperature range of -5 to 55°C. While the competitions made of commercial-grade parts are questionable in terms of durability, all critical parts of the NISE 70 are covered in our longevity support program, a demonstration of NEXCOM's commitment to customer service and success. Its slimness makes fitting into confined spaces at manufacturing sites no problem. The additional side openings on the chassis optimize the circulation of air flow for fantastic cooling effects.
Complete Ports for Comprehensive Connectivity
When it comes to connectivity, this IoT gateway is definitely a winner in its class either by number or capacity. 4 HDMI ports deliver contents simultaneously to 4 independent displays, highly effective for applications requiring different arrays or forms of displays, be it a large format display or a display with split views. The NISE 70 is further equipped with a trio of USB 3.0 ports, one USB 2.0 port, high-speed LAN and traditional RS232 serial interface. This abundance of I/O makes NISE 70 a perfect gateway for data communication or HMI for equipment monitoring, all of which are crucial for driving factory automation, Industry 4.0 smart factory, smart warehouse and smart building technologies and applications.
Smart Operations Begin with Data
Among the challenges digital transformation has brought to manufacturing, making data-informed decisions is equally important as production automation. The NISE 70, complete with remote management functions, is a great fit to be an information hub in any enterprise war room. Its value extends when being connected to a cloud SCADA system to bridge the gap between OT and IT in industrial communication. Compatible to major Industry 4.0 automation software on the market, the NISE 70 offers a cost-effective starting point for upgrading management systems and turning real-time data into real profits.
Main Features
Onboard Intel® Celeron® 6305E processor
4 x HDMI
3 x USB 3.0, 1 x USB 2.0
1 x RS232/422/485, 1 x RS232
3 x GbE LAN ports; support WoL, teaming and PXE
Support TPM 2.0 chip (by project)
1 x M.2 socket for storage/4G LTE/5G modules
1 x mini-PCIe socket support optional mSATA/Wi-Fi/BT/4G LTE module
Support operating temperature from -5 to 55 Celsius degree
Support+12V to 24VDC input; support ATX power mode
Ordering Information
ISE 70-T01 (P/N: TBC)
Intel® Celeron® (Tiger Lake-UP3) processor fanless system