The number of Android malware is growing exponentially, according to Juniper Networks. Mobile devices including smartphones and tablets have become essential productivity tools in the workplace. However, unlike PC, the security protection on mobile devices is relatively weak. This is especially true to open-source Android-based devices. The increasing security threats from Android apps can be disastrous to small- and medium enterprises (SME) who usually have limited security management infrastructure.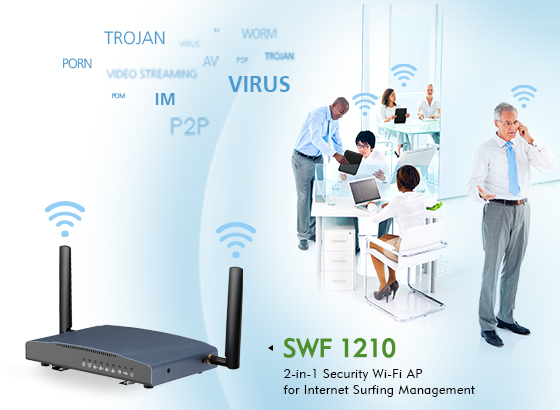 NEXCOM security Wi-Fi SWF series is a simple and cost-effective 2-in-1 solution which can solve SME's security concerns. As a 2-in-1 solution, the SWF series combines Wi-Fi access point and security gateway functions. The security Wi-Fi SWF series provides not only high bandwidth Wi-Fi connection but also security protection for mobile devices.
With signature databases located worldwide and a unique deep packet inspection (DPI) engine, the SWF series can scrutinize network traffic and actively block potential threats. The databases can be automatically updated to seamlessly protect the network against new virus attacks. Integrating a DPI engine, the SWF series can help SME provide managed internet access based on company's internet usage policy, blocking unwanted sites and improving productivity.
For more details, please visit NEXCOM website
Ordering Information
SWF 1210-EU (P/N: 10SF0121000X0)
SWF 1210-US (P/N: 10SF0121002X0)