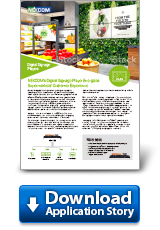 As technology consistently evolves, slim digital signage is becoming an essential component of modern retail strategies. Recent global statistics state that informative signage can impact 80% and 40% of customers' decision to enter a store and make a purchase respectively. For customers, time is of the essence, the less time it takes to obtain clear real-time details, the better the impression. Currently, NEXCOM is tasked to implement Intel® Smart Display Module Large (SDM-L) designed digital signage players in supermarkets, significantly increasing visual communication, sale opportunities, and brand awareness.
Being applied to supermarkets, NEXCOM's NDiS S538 embedded computer presents customers with engaging advertisements and real-time discount information. Depending on the circumstances, the user can either select among USB or LAN ports to efficiently transfer real-time data. However, if installations take place at inaccessible locations, behind either the meat, seafood, or vegetable stalls, the USB ports can then also be functioned for Bluetooth modules, wireless keyboard, and mouse to conveniently perform maintenance or repair.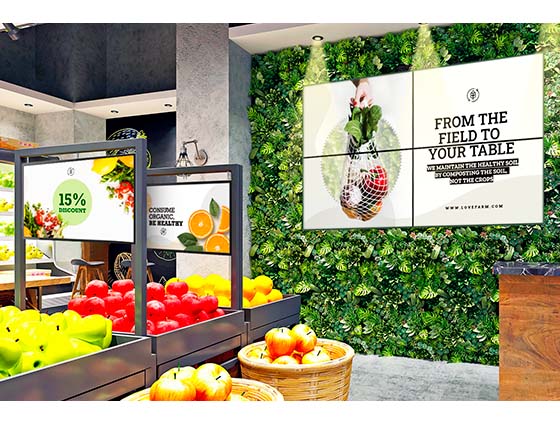 With the Intel® SDM-L design, the compact NDiS S538 is able to easily integrate with slim displays above 55". Via the mini-DP, this embedded computer can perform either a daisy chain or piece together content from multiple displays. Moreover, the mini-DP can be converted to HDMI or VGA in accordance with the I/O of the extended large display. In terms of flexibility, the NDiS S538 can be spanned from Celeron® to Core™ processors and is customizable whenever, depending on the application. This provides an efficient and economical solution, supporting All-in-One signage, interactive media players, and video walls.
Leveraging the 6th Generation Intel® Core™ processor and its SDM-L design, the NDiS S538 is created for the modern trend of slim displays. With a pluggable M.2 storage unit and rich essential I/Os, it can deliver power-efficient vibrant 4K resolution fulfilling digital signage applications.
Application Diagram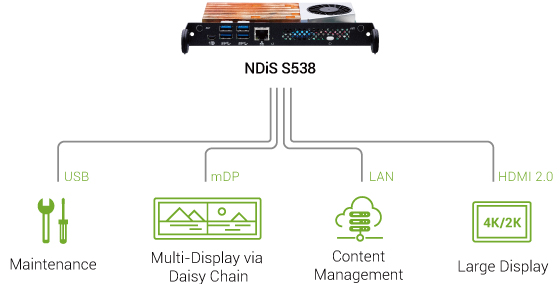 Key Features for Application Needs
Intel® Smart Display Module Large (Intel® SDM-L) design in
6th Generation Intel® Core™ Skylake processor
Intel® integrated HD 530 graphic engine
Support 3 independent 4K2K video out
Dual DDR4 SO-DIMM support
Support Wi-Fi module