NEXCOM has completed its EtherCAT Solution with the NEIO series of EtherCAT slave I/O modules to offer a truly open architecture to build Industry 4.0-ready control systems. Featuring high speed EtherCAT communication, high compatibility, and high I/O density, the NEIO series provides ease of install and cost advantages for machine control and robotic control applications.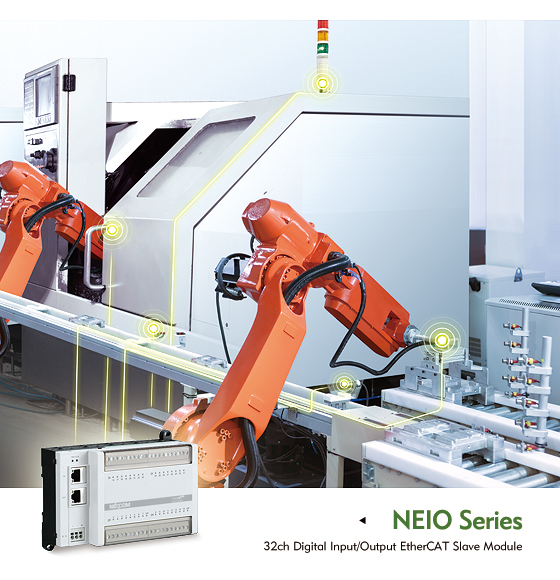 The NEIO series brings the characteristic short cycle time of EtherCAT communication to automation control. To achieve the full potentials of high speed real-time EtherCAT, the NEIO has been designed by the IEC 61131-2 standards, tested with the EtherCAT Conformance Test Tool (CTT), and offered with ESI files to ensure performance compliance and interoperability with 3rd party EtherCAT devices. Coming with a high density of 32 channels and both sink and source types, the NEIO series enables worldwide system integrators to satisfy the I/O requirements of machine control and robotic control by aggregating all sensors, switches, and drives to one or two NEIO EtherCAT slave I/O modules.
With the newly released NEIO series, NEXCOM EtherCAT solution propels the development of Industry 4.0-ready control systems with EtherCAT Master controllers, EtherCAT slave I/O modules, and 3rd party slave drives. System integrators can rely on NEXCOM EtherCAT solution to devise a distributed system schema to consolidate motion coordination, multi-axis synchronization, auxiliary functions, and safety protection onto industrial machines and robots.
Main Features
EtherCAT communication tested with EtherCAT CTT and designed by IEC 61131-2 standards
High density of 32 channels with sink and source types
Detachable screw terminals for quick replacement
Screw terminal with covers to prevent short circuits
LED indicators per channel for module status and I/O information
Multiple mounting methods DIN-rail mounting and wall mounting
Ordering Information
Model Name

Type

# of Channels

P/N

NEIO-B1101

DI Module (Sink)

32CH DI

10J80110100X0

NEIO-B1102

DI Module (Sink/Source)

32CH DI

10J80110200X0

NEIO-B1201

DO Module (Sink)

32 CH DO

10J80120100X0

NEIO-B1202

DO Module (Source)

32 CH DO

10J80120200X0

NEIO-B1811

DI/O Module (Sink)

16CH DI, 16 CH DO

10J80181100X0

NEIO-B1812

DI/O Module (Source)

16CH DI, 16 CH DO

10J80181200X0

NEIO-B1601

COM Module

1x RS232/422/485
1x RS422/485

10J80160100X0

NEIO-B1603

COM Module

1x RS232/422/485
3x RS422/485

10J80160300X0