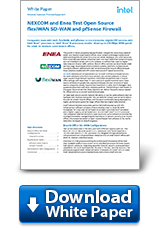 Intel® Network Builders ecosystem partner NEXCOM teamed up with NFV infrastructure software company Enea to develop a test to show SD-WAN throughput for a low-cost server based on an eight-core Intel Atom® processor and a higher-capacity server based on a 14-core Intel® Xeon® D-2177 processor. The companies selected flexiWAN's open source SD-WAN software to provide the routing functionality. Recognizing the importance of network security at all branch offices, the companies added an open source firewall from pfSense to the test to determine its impact on data throughput.
Branch Office SD-WAN Configurations
Two servers were used in the tests, each with different capacity and cost. The NEXCOM TCA 5170B uCPE server is a 1U rackmount form factor based on a 14-core Intel Xeon D-2177NT processor. It is designed for high performance virtualized and non-virtualized (bare metal) services at small branch offices and small-to-medium-sized businesses.
The other server used in the test was NEXCOM's DTA 1160, which is a desktop appliance featuring an eight-core Intel Atom C3758 processor. This CPU is designed for a variety of light scale-out workloads that require very low power, high density, and high I/O integration, including on-premises uCPE featuring routing, switching, data security, dynamic web serving, and more. The Intel Atom C3000 processor is Intel's third-generation system-on-a-chip based CPU manufactured on Intel's optimized 14 nm process technology.
TCA 5170B is a verified Intel® Select Solution for uCPE, which means it is optimized for uCPE applications.
The solution brief was created by Intel® Corporation. To read the full story, please download the PDF.