NexCOBOT, a NEXCOM company and reliable partner for intelligent robot control and smart retail solutions, has successfully debuted its smart facial-access and self-service solutions, combining its own AI analytics engine products with Microsoft Face API and AI object detection algorithm. The smart solutions were showcased during Microsoft events, including Microsoft BUILD and Microsoft Inspire, as well as on stage during Taipei Computex.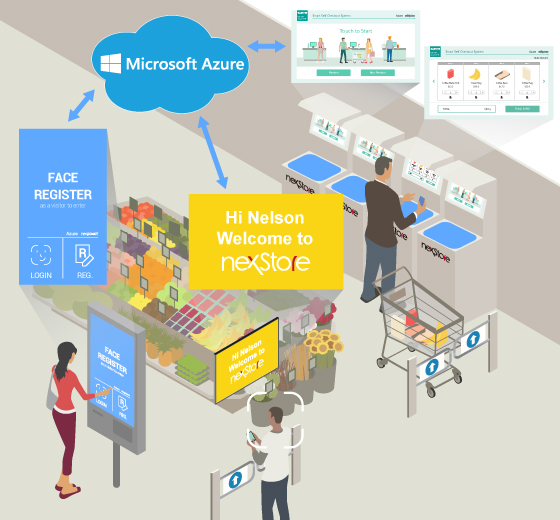 With NexCOBOT solutions, the user would approach the interactive kiosk at entry point to register in as little as 30 seconds by snapping a facial image and inputting key information. Upon return visits, the user would be welcomed with their own name and targeted advertising, broadcasted by intelligent hospitality signage according to personal background or shopping history from cloud database. That would be almost like a receiving a greeting and message from a neighbor. In addition, at self-service checkout kiosk, the user can easily check out by simply placing items on the platform to automatically activate object detection along with the entire calculation process, including the weight of items such as fruits and vegetables. The user then completes the transaction through selected payment methods.
Further, it is also possible for a user to order coffee at home through a shop's APP, which would then activate the coffee machine as soon as the user is facially recognized when entering the shop. Once the coffee is ready, the smart coffee serving system notifies the user. These are just a few examples of great ideas that can be realized.
NexCOBOT solutions allow installers to seamlessly integrate modularized solutions into their retail store design and other potential applications. With NexCOBOT's own intelligent solution research team, installers can enjoy the privilege of totally tailor-made solutions by selecting from a series of rugged embedded products, including the latest that emphasizes on flexibility., and with installers' market insight to customize applications for many industries. The applications can include attendance management through facial access at entry for schools, facial registration and access of periodical hemodialysis process for health care institutions, and operator attendance management system for production lines of factories.
With digital data analytics through cloud-based and efficient edge computing, NexCOBOT solutions can provide innovative Internet of Things (IoT) functionality, which can include precise audience-measuring marketing tools and real-time and remote sales-channel management tools to increase sales and labor efficiency.
NexCOBOT provides even more facial access solutions and self-service solutions, such as Smart shelf and Self-ordering Solution. The possibilities are only limited by installers' creativities.
The latest NexCOBOT AI analytics engines are featured with built-in GPU, 4K resolution support, as well as rugged compact and fanless design. NDiS B325-SI3 and NDiS B537 are recommended for (facial) access control and self-service solutions.
GDPR - As General Data Protection Regulation (GDPR) has been come into force, under NexCOBOT's smart retail solutions, all the database are in compliance with the related European regulations, no matter our users are within the boundaries of an EU member, or providing products or services for those applicable to it. Varied privacy levels are provided according to industry characteristics or other considerations.
About NexCOBOT
NexCOBOT, a NEXCOM company, is Taiwan's leading technology provider in robotic and motion control, as well as smart retail solutions. It provides customized solutions and real-time support through a world-class technical service team. NexCOBOT Taiwan's state-of-the-art research and development team operates a design manufacturing service-to-market business model to ensure the success of projects. NexCOBOT aims to penetrate global system integrators and solution providers. Its smart retail business provides store performance Business Intelligence (BI) system, digital signage system, and many more.