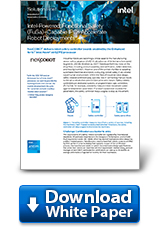 Industrial robots are becoming a critical asset to the manufacturing sector, with a valuation of USD 21.83 billion as of 2019 that is forecasted to grow to USD 66.48 billion by 2027.1 Robots perform key roles on the shop floor, including product assembly and verification, defect detection, and moving inventory. However, one of the primary hurdles to adopting automated machines and robots is ensuring worker safety in any shared robot-human environment. Within the field of industrial robot design, safety-related controllers play a pivotal role in connecting manual inputs to the servo drives that control robot joints and motors. Safety-related controllers are dedicated systems or programmable logic controllers (PLCs) that, for example, constantly measure robot movement speed against established parameters. If a robot's speed ever exceeds the parameters, the safety controller relays a signal to stop all movement.
Challenge: Certification as a barrier to entry
The requirements of a safety-related controller are regulated by international standards. Of particular importance is the Category 3 Performance Level d (Cat3 PLd) requirement under ISO 13849, which has several implications when designing a safety-related system. Manufacturers need to have their robotic systems certified by third parties in order to deploy their systems. As part of the certification process, the manufacturer needs to submit documents and design specifications that prove their robots can meet the Cat3 PLd requirement. Weihan Wang, product manager at NexCOBOT, estimates this certification can take up to 18 months on average and creates a huge barrier to entry for most businesses.
Solution: FuSa-capable control boards
To help accelerate time to deployment, NexCOBOT offers a safety-related control board in the SCB 100 offering. The SCB 100 is an industrial PC (IPC) board enabled with key FuSa features in the Intel Atom® x6427FE processor. With this solution, robot builders and their customers receive the support and documentation to accelerate their system-level certification process for Cat 3 PLd. Robot builders and manufacturers also benefit from the next-generation performance of the Intel® Enhanced for IoT processor, allowing for greater flexibility and modularity in their configurations. Equipping robot builders with the tools to build safer, performant robotic solutions in shorter time frames is a core element to NexCOBOT's mission. Wang states, "With the SCB 100 and an Enhanced for IoT Intel Atom® processor, we want to provide the building blocks and shorten the overall development life cycle for customers to build a safety-related robot solution."
The solution brief was created by Intel Corporation. To read the full story, please download the PDF.