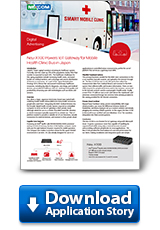 Introduction
Japan's "super-aging" society is straining its
healthcare system
. Currently, over 65s make up 29% of the population, but by 2050 that number is expected to reach 39%. The healthcare challenges for this aging population include increasing health costs, increased burden on medical workers, and a shortage and uneven distribution of doctors in rural areas. As a part of the Japan Revitalization Strategy 2016, Shinzo Abe announced revolutionary healthcare measures, including big data for diagnosis, new drugs, and medical devices; personalized healthcare with IoT; and improved quality and productivity of nursing care with technologies such as robots and sensors.
Overview
Our client, a major Japanese electronics brand, was tasked with outfitting mobile health clinics (MHCs) to bring health services to people who need them. Integrating the MHC medical devices into the broader digital health records system required an embedded computer to serve as the IoT gateway to their private cloud. Although slated for use in a vehicle, they didn't need the vibration or shock resistance typically required for in-vehicle use. This IoT platform needed to provide a suitable set of core functions, include connectors for external devices, and connect to their private cloud.
Capable Core Features
Featuring an Intel® Apollo Lake N3350/N4200/J3455 processor and up to 8 GB of memory, the Neu-X100 fanless computer starts with just the right balance of power required for stable operation. The compact size makes it a perfect choice for the space-limited environment in an MHC. It's also ideally designed for use in IoT applications in controlled indoor environments, perfect for an IoT platform that serves as a gateway in an MHC.
Plentiful Peripheral Options
The primary functions needed for this MHC were connections to the x-ray machine, barcode scanner, and upload to the internet through 4G. The Neu-X100 has two RJ-45 GbE ports that collect the measurement data from medical devices and connect to the NVR system that collects traffic and location information. There are two USB 3.0 ports for peripheral devices, and in this instance connected to the barcode scanner used to scan people's health cards. Finally, a mini-PCIe LTE add-on card, a sim card slot on the mainboard, and antennas connected through two antenna holes already provided in the casing provided the 4G internet connection.
Private Cloud Certified
Beyond basic hardware setup, proven compatibility with major cloud providers can mean the difference between weeks of headaches and drama trying to set up a custom solution and simply plugging into existing reliable systems. In this regard, the Neu-X100 is Microsoft Azure certified and uses Windows 10 IoT for seamless integration into their current systems.
Conclusion
The Neu-X100 is a no-brainer for IoT gateway setup with Microsoft Azure. It sports a processor more than capable of handling the expected load while using only a minimal amount of power and providing sufficient peripherals for most applications. The Neu-X100 provided the best balance of cost and performance for our client, making installation and integration quick and simple.
Application Diagram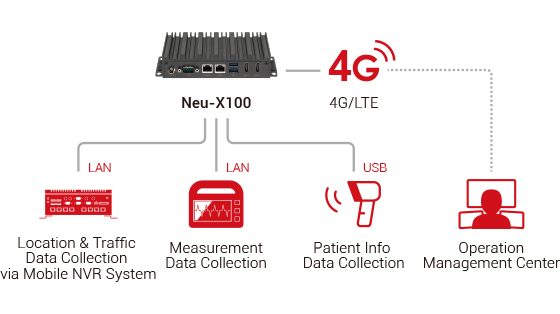 Key Features For Application Needs
Intel® Celeron® (Apollo Lake) N3350/N4200/J3455 processor
3.5" MB size as slim chassis design
Support HDMI 2.0 output
Fanless design
mini-PCIe slot support Wi-Fi and LTE module