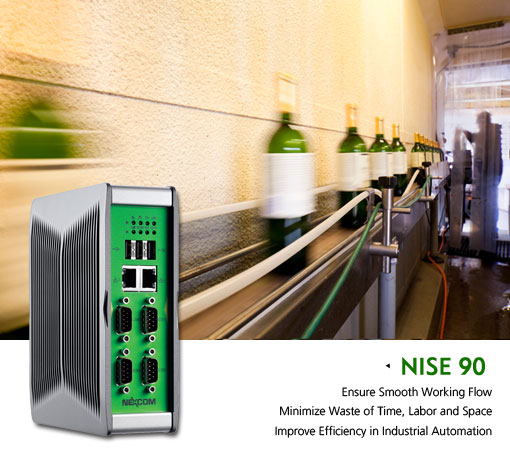 NEXCOM's NISE 90 is a fanless DIN-rail computer, features a 0.6GHz Intel® Atom™ E620 processor, and is housed in an incredibly compact yet feature rich enclosure, which can perform a multitude of functions within space critical environments. NISE 90 is equipped with a multitude of I/O ports such as Intel GbE LAN, USB and COM/CAN bus, making it ideal for a wide variety of applications within industrial automation.
Lowest Power Consumption over x86 Architecture
NISE 90 is targeted at low-power, high-performance applications where space is at a premium. Powered by Intel® Atom™ processor E620 with clock speeds up to 0.6GHz and Intel® GMA 600 graphics engine, NISE 90 delivers impressive computing performance with the capability to render graphics including 2D/3D image enhancement and encode/decode. With a processor that consumes just 2~3 watt of power, only 17W is required when the NISE90 is at full loading. This low power consumption generates less heat and thus enhances reliability of NISE 90.
Less Cost & More Software Options
Fanless NISE 90 is a Windows-Intel (Wintel) solution beating ARM-based solution both in price and software capability thanks to Atom™ process E620 as a System-on-Chip (SoC). NISE 90 enables smooth software porting and maintenance and can also run on Linux and Windows Embedded Standard 2009 (WES2009) on request. NISE 90, as a ready-to-run system, accelerates time to market and cuts development costs compared with ARM based solution.
System Reliability Enhancement
In addition to low power consumption, system reliability is further enhanced by the "all-on-board" motherboard. All major parts on NISE90, for example, Intel® E620 processor, EG20T chipset and DDR2 512MB memory chip are all mounted on-board, so that compatibility is assured; this feature reduces the possibility of computer glitches which are often caused by hardware incompatibility; and lose connections caused by shock and vibration. As a result, system downtime is reduces.
I/O connection is another virtue of NISE 90. Though compact in size, the fanless computer has a number of I/O options: two Intel GbE LANs; three USB ports; one VGA port; three Serial ports; one CAN bus; 8-channel GPI and 8-channel GPO; and one 2.5" HDD drive bay. All are housed in the 59mm wide, 140mm deep and 167mm high chassis. NISE 90 supports LAN teaming function and CAN 2.0b connection. The signal can be processed at the speed of up to 1Mbp with clock frequency of 40MHz. Furthermore, 12V and 24V DC input are also available. Along with mounting kit, NISE 90 can be mounted to a DIN rail or wall with wall-mount kit.
The reliable NISE 90 with a wide range of I/O options is an industrial grade computer. By integrating all of the above features, it ensures smooth working flow, minimizes waste such as time, labor and space, and thus improves efficiency in various applications.