The convergence of physical and digital worlds is giving rise to the smart factory and a new generation of industrial machinery. At 2017 Hannover Messe, taking place from April 24 to April 28, NEXCOM will present its Industry 4.0 Solution Map, which covers the essential elements to implementing automation systems of the device layer, wireless infrastructure of the communication layer, and smart cloud services of the application layer. At the show in booth D15, Hall 9, NEXCOM will also highlight how the Cloud SCADA and Control Solution and Industrial IoT Network Solution can help cloud enterprises construct a digital factory.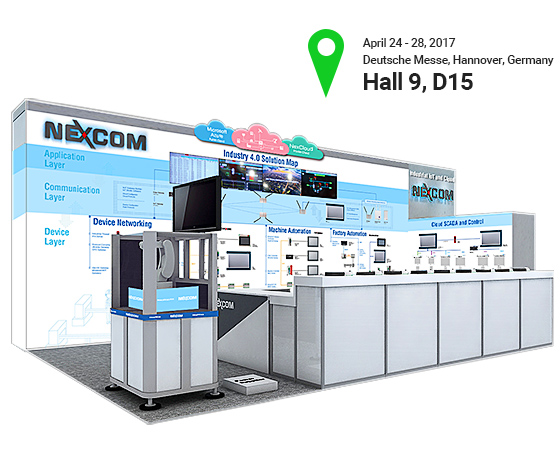 At 2017 Hannover Messe, NEXCOM will showcase its Industry 4.0 Solution Map, which is a range of complete CPS-ready solutions covering from the device layer to the connectivity layer and application layer. Visitors can learn how NEXCOM's complete Industry 4.0 Solution covers the 3 layers to establish connectivity from edge to cloud to streamline manufacturing processes, optimize production efficiency, exchange raw data over the network and turn them into valuable information. The device layer consists of iAutomation CPS-ready control solutions, NexMotion motion control solutions, NexROBO EtherCAT-based robotics control solutions as well as device connectivity solutions.
For the communication layer, NEXCOM will display how its IIoT gateways paired with NEXCOM Industrial IoT Studio, a web-based visualization tool, can intuitively connect field devices to cloud services. In addition, NEXCOM will present its wireless infrastructure solution, which includes nCare, a network management tool, along with Wi-Fi mesh backbone solutions and AP devices to construct a ubiquitous network for plant operations. For the application layer, four displays will be live fed with real-time analytics data through Microsoft Azure Cloud to demonstrate data analytics for applications such as robot control, process control, and SCADA.
For Cloud SCADA and Control Solution, NEXCOM will demonstrate a whiskey factory scenario which comprises four processes on four NIFE 105 master controllers running different fieldbus protocols while utilizing SCADA systems to optimize process efficiency, improve operation and reduce cost. For instance, if an error occurs in one of the processes, its respective controller will send alarm and interlock other operation processes and stop immediately to reduce the damage. In addition, the IoT controller NIFE 200 with IIoT Studio on the edge server enables reliable connection to Microsoft Azure Cloud for data analysis, pushing field data from the controller to cloud to optimize equipment operation and help enterprises make insightful decisions and increase competitiveness.
The Industrial IoT Network Solution includes fieldbus data collection system, cyber physical automation system, predictive maintenance system, automated material handling system and wireless sensor network. NEXCOM will illustrate how NEXCOM IoT gateways transfer valuable data from a production line to cloud, and how NEXCOM IIoT Studio integrates field device protocols with cloud platforms to provide seamless network connectivity where data can be exchanged between field sites and headquarters, allowing a clearer view of the factory operations.
Last but not least, NEXCOM will also showcase its robot solution by integrating XY axis motion synchronously with NEXCOM GMC (General Motion Control) software. NEXCOM self-developed GMC software is not only designed for general motion control but also for dedicated robot control. At the show, visitors will see how NEXCOM GMC-based controller can pick bricks via 6-axis robot and place them onto an XY axis turntable fast and smoothly.
Sincerely invite you to visit us at 2017 Hannover Messe to learn more about NEXCOM Industry 4.0 Solution.
Event Details
Date: April 24-28, 2017
Exhibition Center: Deutsche Messe, Hannover, Germany
Booth: Hall 9, D15