If the coronavirus pandemic has taught us anything, it's that health and hygiene are of utmost importance. Armed with antibacterial wipes and alcohol sprays, and masks partially covering our faces, we've limited unnecessary contact with other people and objects. We've avoided public transportation and places as much as possible – but we can't live in fear forever. With all this in mind, NEXCOM has made one of the everyday objects that we encounter more hygienic and safe: touch screens. Increasingly ubiquitous across transportation and retail sectors, we've thoughtfully enhanced our own XPPC touch computers with antimicrobial Corning® Gorilla® Glass. Customers will worry less about coming into contact with bacteria, while businesses increase efficiency, all contributing to a more stress-free society.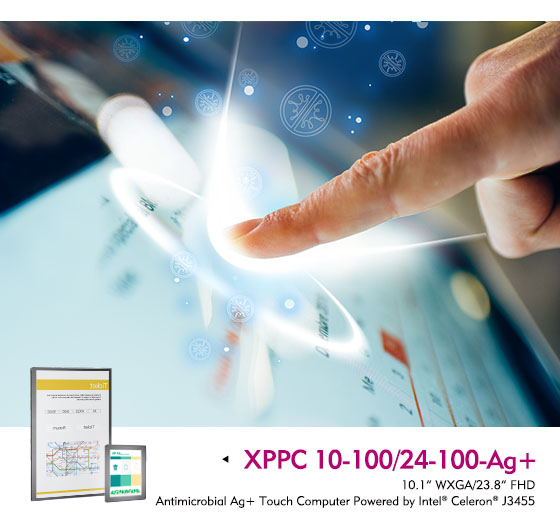 Promoting a safer and cleaner world
"Social distancing" has become the buzzword in worldwide efforts to reduce the risk of coronavirus transmission in public settings. Using our touch screens specifically in smart cities and retail environments helps mitigate that risk by reducing physical contact with others. Gone are the days of exchanging cash (and germs, to say the least); using touch screen electronic payments means less contact with foreign objects. Using more antimicrobial self-ordering touch screens, in particular, means that customers are less likely to encounter person-to-person transmission from regular queues, while protecting themselves from contacting bacteria on surfaces. Better yet, businesses reduce cleaning and labor costs because our screens don't need regular cleaning as with typical touch screens. Their protective qualities also mean that fingers won't leave behind oil or residue. Moreover, our panel PC screens are composed of high-quality and durable material, so they don't require regular replacement, thus decreasing equipment expenditures.
Material that's hygienic while high-quality
Collaborating with Corning® means reliability, with their history of 170+ years in developing special glass material. The antimicrobial Gorilla® Glass uniquely incorporates silver ions as the agent to keep surfaces stain- and bacteria-free, combining with proprietary technology to also make the material durable, scratch-resistant, and tough. Its microbial reduction rate has additionally met the international JIS Z 2801 industry standard for antibacterial efficacy. The ten-point PCAP screen's optical bonding also boosts image quality, readability, and ruggedization, resulting in higher customer satisfaction.
Sturdy yet stunning
The fanless computers are suitable for a variety of indoor interactive and promotional displays: the 10" XPPC 10-100 in restaurants and convenience stores, and the 23.8" XPPC 24-100 in department stores, exhibitions, and vending and ticketing machines. Thin and lightweight, XPPC touch computers blend seamlessly into surroundings while avoiding the bulky and industrial look of typical panel PCs. However, they're tough enough to meet industrial-level IEC shock and vibration standards, not to mention weight-optimized and IP65 compliant, giving you peace of mind that the entire computer is shielded from dust, accidental contact, and water.
Main Features
10.1" TFT WXGA 16:10 panel (XPPC 10-100) or 23.8" TFT FHD 16:9 panel (XPPC 24-100)
10-point PCAP multi-touch with slim bezel design
Mounting support: VESA 75mm x 75mm (XPPC 10-100) or 100mm x 100mm (XPPC 24-100)/panel mount/open frame
Intel® Celeron® processor J3455, Quad Core, 1.50 GHz
1 x DDR3L up to 8GB, M.2 M-Key 2242 for storage device
Support power input 19 VDC
Antimicrobial Corning® Gorilla® Glass
Ordering Information
Barebone
XPPC 10-100-Ag+ (P/N: 10W30XPPC06X0)
10.1" WXGA antimicrobial Ag+ touch computer powered by Intel® Celeron® J3455
XPPC 24-100-Ag+ (P/N: 10W30XPPC08X0)
23.8" FHD antimicrobial Ag+ touch computer powered by Intel® Celeron® J3455