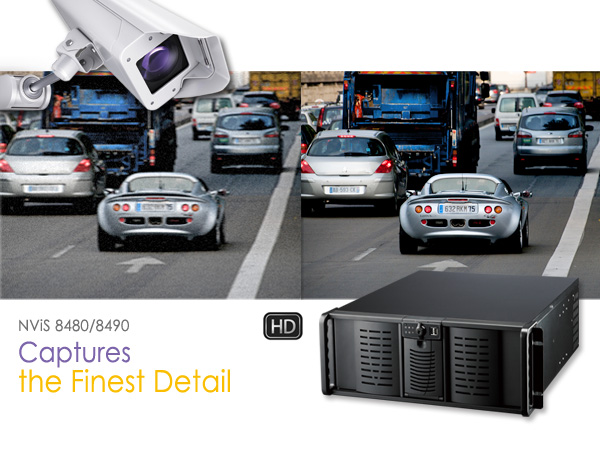 NEXCOM has expanded its range of security surveillance solutions with the launch of the NViS 8480/8490 which has been specifically designed to address HD CCTV applications. Powered by 2nd generation Intel® Core™ i7/i5 desktop/ workstation grade processors with Q67/C206 chipset, NViS 8480/8490 is able to display and playback Full HD videos through 8/16 channels. NViS 8480/8490 with its unique industry-leading features not only is ideal for use as a HD CCTV system but can coexist with SD CCTV applications. NViS 8480/8490 is therefore a hybrid security surveillance system which can be fine-tuned to capture the finest detail thus protecting your past and future investments.
The Unparalleled Surveillance System Tops the World
NViS 8480/8490 supports Intel® Core™ i7/i5 desktop/workstation grade processors with Q67/C206 chipset. The latest 2nd generation Intel® Core™ processors, with Intel® Turbo Boost, Hyper-Threading technology and rich graphics features, give NViS 8480/8490 a boost in performance and enables the system to enrich visual experiences with high quality seamless video, without additional graphics hardware.
Along with four PCIe by 4 expansion slots, NViS 8480/8490 is capable of uncompressed Full HD 1080p video playback and refreshing HD images at a speed of up to 480 frames per second. In addition, NViS 8480/8490 can store up to 12TB when all six 3.5" SATA HDDs are utilized, offering massive storage capacity with good value.
NViS 8480/8490 also features an environment control board. The Smart Fan mechanism, not only monitors system temperature, but also alerts operators when the system is overheated.
Compatible with CCTV System
In addition to the above exceptional configurations, the 4U NViS 8480/8490 adopts DVI ports and flawlessly renders existing CCTV data format. NViS 8480/8490 allows sharing of existing analogue cabling with CCTV systems, this enables clients to enjoy Full HD experiences without costly infrastructure overhaul. Moreover, NViS 8480/8490 is supplied with 400W AC 100~240V power input empowering expansion cards to function properly.
Customized Service on Demand for HD CCTV
NViS 8480/8490 installed with certified capture cards from a NEXCOM solution partner will be provided with SDK supports for solution developers, who can also choose other preferred capture cards upon request. NViS 8480/8490 can also be tailored with eight SDIs to suit different application requirements.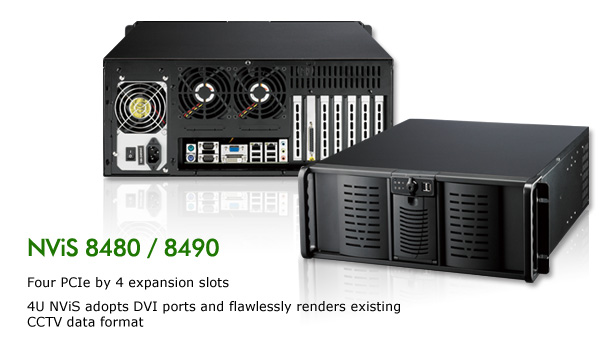 Main Features
Support 2nd generation Intel® Core™ i7/i5 desktop/ workstation grade processors
Intel® Q67(NViS 8480)/ C206(NViS 8490) chipset
8 (NViS 8480)/16 (NViS 8490) channel HD CCTV
6 x 3.5" SATA HDD for total 12TB capacity
4 x PCIe expansion slots (as below)
4U 19" rackmount chassis
YUAN HD CCTV capture card certified (optional)
Model
NViS 8480
NViS 8490
CPU

support Intel® 2nd generation Core™ i7/i5

Desktop processor

Intel® Xeon™ E3 Server/ Workstation processor series

Support Intel® 2nd generation Core™ i7/i5 Desktop processor

PCH

Q67

C206

PCI Expansion

PCIeX8 (PCIeX4)

PCIeX4

PCIeX1

PCIeX1

PCIeX8 (PCIeX4)

PCIeX4

PCIeX4

PCIeX8 (PCIeX4)

PCIeX4 HD CCTV Card

8 channels

16 channels

Video Format (Display)

1920 × 1080p × 30FPS (NTSC) / 25FPS (PAL)

1920 × 1080i × 60FPS (NTSC) / 50FPS (PAL)

Video Format (Recording)

1920 × 1080p × 30FPS (NTSC) / 25FPS (PAL)

1920 × 1080i × 60FPS (NTSC) / 50FPS (PAL)
Ordering Information
NViS 8480 (P/N: 90C00848000X0) RoHS Compliant
4U Rackmount 2nd Generation Intel® Core™ i5/i7 Platform for HD CCTV surveillance