Machinery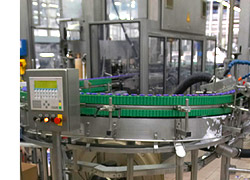 The perfect-match PC-based automation will be the modular COM design with custom I/O carrier for dedicated long-term availability control of machinery. The machinery designer need not worry about changes of CPU SKU, but to keep COM standard I/O interfaces. Together with associated software, COMs with Carrier board may customized in different shapes and forms to fit into wide range of various automation tasks such as control of machines, processes or logistics systems, networking of system components, data acquisition, or image processing.
Multimedia, Digital Signage and Gaming Station
The booming multimedia digital signage industry is another industry which ca benefit from the COMs and customized carrier I/O board designed. The COMs engine could be plug-in from Intel® Atom™ COM module to most high-end Intel® 3rd generation Core™ i7/ i5/ i3 processors to fulfill multimedia of video-streaming applications, video-wall gaming, POI/ Kiosk and gaming application.
Monitoing and Controlling Energy
The new era of green energy devices are connected networking as real-time monitoring, one COM customized carrier I/O board design may share with many different scale of COM computing modules and fit different needs of monitoring gateway of new green energy like smart-grid, solar energy distribution system.
Measurement and Testing
More and more Measurement testing equipment requested longevity to ensure investment, and most of its design is highly dependent on the quality of results. Scalable performance up to the highest levels has to come with optimum reliability. COM modular design concept may meet the highly interactive graphical user interfaces and enjoy these special I/O connectors, and easy maintain of upgradable COM modules generation to generation over decades.
Military and Marine
The Computer-On-Modules like COM Express are used primarily in applications where shock, vibration, and temperature are not a major concern. A system integrator who wants to use COM technology under harsh environmental conditions must look for a module specifically designed for harsh environments. This requires a different design, test and qualification process. NEXCOM experiences and successful join-project of COM computing module for some military-grade I/O carrier board for marine and ship automation .
Medical Equipment
Due to the networking quality of medical imaging is expanding and the need for patient-centric service at the point of care. More and more hospital need healthcare drives for general diagnostic imaging, critical care, cardiology, vascular, emergency care, intervention and women's healthcare. New technology improved diagnostic accuracy, and making state-of-the-art imaging technologies more affordable and widely-used. NEXCOM COM Express helps devices makers to customize a carrier board and a family of Type modules. At the high-end, modules with 3rd Generation Intel® Core™ processors with quad-core technology meet the most demanding medical imaging requirements. For the value-line, there are dual cores Celeron B810 to meet entry level solution.