Reliable Partner for the Intelligent Solutions
Founded in 1992 and headquartered in Taipei, Taiwan, NEXCOM is committed to being your trustworthy partner in building the intelligent solutions. To surpass customers' expectations, NEXCOM makes the difference by utilizing its decades of industrial computing experience, a highly talented R&D team, and by providing exceptional levels of customer service. With these core strengths, NEXCOM has enabled its customers to win key projects in a diverse range of industries.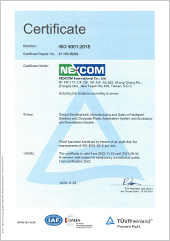 With its focus on delivering these core values to better serve customers, NEXCOM integrates its capabilities and operates six global businesses, which are IoT Automation Solutions (IAS), Intelligent Video Surveillance (IDS), Intelligent Platform @ Smart City (IPS), Mobile Computing Solutions (MCS), Medical & Healthcare Informatics (MHI) and Network and Communication Solutions (NCS). This strategic deployment enables NEXCOM to offer time-to-market, time-to-solution products and service without compromising cost.
In addition, the service-to-market business model gives NEXCOM core competence to build a strong world-class service network by providing customized service, global logistics, local access, and real-time support. Operating six subsidiaries, from China, Italy, Japan, Taiwan, the United States, to the United Kingdom, NEXCOM is able to better facilitate customers' requirements as well as closely work with global partners in different regions.
Partners should also be assured that NEXCOM's Taiwan based Headquarters and subsidiary offices in China and USA have obtained ISO 9001:2015 Certification.
| | |
| --- | --- |
| IAS | IoT Automation Solutions: Industrial Automation & I4.0 Execution, Intelligent Edge, Gateway & EWR, Industrial Robot Control, EtherCAT Motion Solutions, Wireless & Embedded Solutions for Industrial IoT |
| IDS | Intelligent Video Surveillance: IP Video Surveillance Cameras, Mobile Cameras, ANPR/LPR Network Cameras, Panoramic Cameras, NVR Server Platform |
| IPS | Intelligent Platform @ Smart City: Smart City, Smart Retail, Digital Signage, Interactive Kiosks, Hospitality, Gateway, Edge AI, ODM Customization Services |
| MCS | Mobile Computing Solutions: Edge AI Telematics Computer, Vehicle Telematics Computer, Railway Computer, Vehicle Mount Computer, Vehicle Mount Display, In-Vehicle Networking, In-Vehicle HDMI Extender over IP |
| MHI | Medical and Healthcare Informatics: Total Solutions with a Variety of Medical IT Systems |
| NCS | Network and Communication Solutions: Cyber Security, HPC, Telecommunications, Storage, SDN/NFV, ICS Security |
Corporate Vision
To become the industrial leader in providing intelligent solutions, NEXCOM utilizes its industry leading technology, localized customer support and worldwide logistics services. This will be achieved by:
Great team work
Cooperation with trusted partners
Growth through innovation
Corporate Mission
An innovative supplier in vertical application markets
A quality partner in engineering, manufacturing and services
Business Strategy
Aim to better support the activities of all its partners, NEXCOM divides its sales force into six dedicated business units to target rapidly expanding vertical markets. This enhances each business unit concentrating on strategic channel accounts and on repeat order business. Moreover, NEXCOM's business units have been set up to serve the requirements of key project accounts, where product ODM and project support are frequently required.
NEXCOM is working with embedded computing solution providers to envision new opportunities for growth. We'll help you deliver reliable vertical solutions, optimized for the next wave of IoT and Industry 4.0.
24/7 Production Line Optimal Manufacturing Efficiency
Over a decade ago, NEXCOM successfully launched the PEAK series of Single Board Computers onto the IPC market, and in doing so, gained a solid reputation for product quality and innovation. In subsequent years, NEXCOM has enhanced its reputation for R&D excellence with a multitude of high-end technology products, which has cemented NEXCOM as one of the industry leaders for R&D and innovation.
The mission of NEXCOM R&D team is to design exceptional products that meet the stringent requirements of today's global markets. In order to achieve this goal, we have recruited hundreds of talented engineers who have the knowledge and expertise to make NEXCOM's products stand out in this highly competitive market.
NEXCOM offers solutions for IoT gateway, robot controller, connected cars, Industry 4.0, and industrial security applications. The team is encouraged to "Think with New Ideas" and "Know how to make it and do it right first time". In addition, NEXCOM 's R&D team has been expanded to over 300 engineers with the ration of software engineers to hardware engineers coming to about 1:1, and remains as one of core competences of the company.
Versatile Design Capabilities
Fanless technology for industrial computer
High availability network security platform, blade, and cPCI
Rugged tablet computer and car PC
Ultra small footprint computer-on-module
High speed networking
Isolated and non-isolated power system
Isolated and non-isolated industrial I/O
Wide range of operating temperature
Quality Assurance
Under a strict Quality Assurance System, product design and reliability are controlled to support all critical solutions, and ensure Total Quality Assurance (TQA) implementation for all NEXCOM products and service. Furthermore, NEXCOM technical support team aims to provide feedback within 24 hours to ensure technical issues are resolved in the shortest possible time.