Smart Bus Ride to a Safe, Green, Fun & Comfortable Tomorrow
Smart buses provide a solution to the increasing traffic and the demand for streamlined public transportation services. Smart buses offer passengers a convenient and efficient means of traveling, and help bus operators to consolidate fleet management, facilitate daily operations, improve safety and enhance the traveling experience.
Equipped with advanced computing, wireless communication, and global navigation satellite system (GNSS), smart buses can be monitored and co-ordinated meticulously to ensure bus services are performing within standards. In addition, real-time live surveillance and video analytics of bus fleets can be implemented to respond to emergency events and ensure security and safety of drivers and passengers. Furthermore, smart buses can monitor and collect data such as driving behavior and passenger flows, giving bus operators insights into its fleet operation and allowing them to make service improvements or timetable rearrangements when necessary.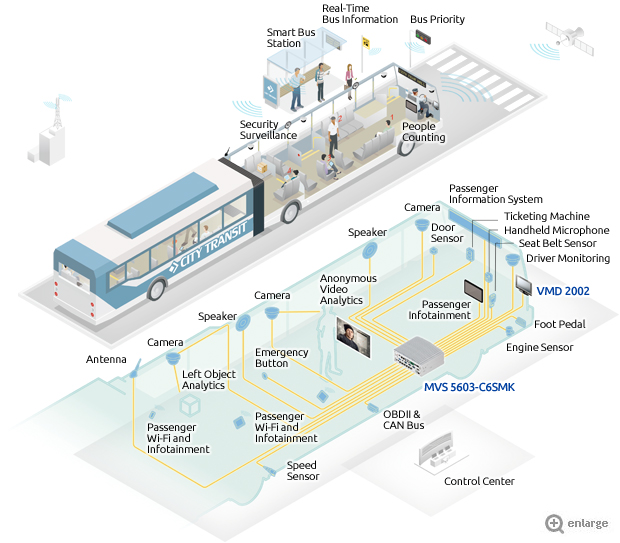 Key Requirements
Safety of passengers and vehicles with active alerts and continuous surveillance
Lane departure detection
Public address system and multi-way intercom between driver and in and out passengers
Automatic passenger counting to improve scheduling, routes, and revenue
Passenger information displays
Uninterrupted Wi-Fi service and WWLAN connection
Roaming charges on international journeys
NEXCOM's Solutions
ARM-based or PC-based in-vehicle NVRs for real-time surveillance with live-view, recording, and playback features
Built-in global navigation satellite system (GNSS) with dead reckoning (DR) function for continuous route tracking from a remote location
Intercom for drivers to alert or attend in and out passengers, as well as directly connect with remote operators
Powerful computing enables passenger counting using face detection to adjust the departure frequency, evaluate better bus routes, and compute a revenue forecast for enhanced management
Built-in communication ports to connect devices such as vehicle signage, card readers, safety sensors and IP cameras
Multiple Wi-Fi and cellular modules with multiple SIM slots for use as a mobile router to provide uninterrupted internet onboard with different internet service providers (ISP)
Multi-SIM with carrier switch enables better signal in remote areas and avoids roaming charges on international journeys