Video wall player delivers stunning visual contact. NEXCOM video wall signage appliance offers users the most effective way to produce dynamic presentation and enhance team collaboration with flexible screen matrix and optimal configuration for full HD quality content. NEXCOM video wall player is perfect for digital signage applications within retail outlets, department stores, entertainment venues, hotels and schools.
High Impact and Cost-effective Video Wall Solutions
PDSB 165/ PDSB 542 is a cost-effective video wall controller solution targeting to manage small or medium size screen matrix for digital signage applications that need visualization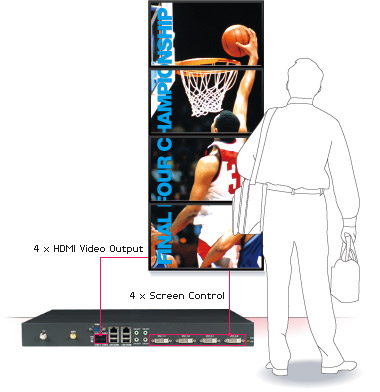 across many displays. With display wall solution, users can freely place numerous data, video or images on screen matrix to create presentations that will target audiences or dramatically enhance any area where display walls are showcased.
PDS Series Features and Benefits
Industrial-grade design for better reliability
Slim and compact dimension for easy integration with large-size display devices
Flexible screen matrix, support non-square, portrait, landscape layouts and edge overlap processing
Hardware accelerated upscale and downscale
Optimal configuration to handle Full HD quality of contents
Variety video and audio types support
Hardware accelerated playback of wide variety of multi-media formats